Welcome to autumn! Here in New England we anxiously await the transition to winter as our leaves start to change color and the summer heat begins to temper. It's been a busy few seasons for us – we've introduced new features and launched our new community efforts. Want to learn more? Read on!
Live Tail a Parselton of Logs
Around this time last year, we introduced Live Tail, which allows you to tail -f  all or a (regex) filtered subset of the raw data you are shipping to your Logz.io account. This feature helps with troubleshooting when there's only an interest in logs that match a specific criteria – for example, when deploying an application change where logs are shipped directly from the application, it's possible to see if there is a change in errors or in the type (ERR, INFO) that are being sent out. 
Now we've made this feature even more human readable by adding the ability to filter your parsed logs as well. The @timestamp and message fields are visible by default and you can add additional fields using the (+) as shown below:

Once added, fields can be rearranged with the arrows or removed with the X:

For more information and a walkthrough on how to make full use of this new feature, please check out our blog post and the updated Live Tail documentation.
Shippers, integrations, and more
We've also made several improvements to our existing log shippers and integrations with a couple of new releases along the way:
New release: now you can ship logs directly from your golang application with our Go appender.

Our

new Kubernetes integration

deploys Fluentd as a DaemonSet. Our Docker container has Fluentd configured to gather all the logs from your Kubernetes node environment.

We've updated our .NET shippers to create a more stable product and so it can be used in a Microsoft Azure environment.

We've also released an in-memory version of our Java appender to allow our customers to use it with MuleSoft rather than our queue buffer version.
For more information about how to configure our shippers, appenders, and integrations log into your account and select the appropriate tool from the Log Shipping menu. We've also expanded our Log Shipping Documentation to include information about the new and updated releases.
Fireside chat with Alice
Slack's exponential growth has helped spur the latest in *ops technology, ChatOps, and we're no exception. Over the summer we introduced our new Slack bot, Alice, which allows you to query Elasticsearch, view Kibana dashboards, and more right from the comfort of your own Slack org. Although only Enterprise accounts have the ability to manage their own API tokens, Pro users can request API tokens to use with Alice. For a 4-minute walkthrough on how to configure and use Alice, please take a look at our video tutorial on our Alice doc.
Finding out "What's New" in real time
As feature cycles increase in frequency, it's important that all of our users are made aware of new and upcoming changes as they are available. To handle that, we've added a "What's New" view in our UI. When you have unread notifications, you'll see an orange star next to your account name in the upper right corner of our UI:

When you click the star, it expands the notifications we publish like so: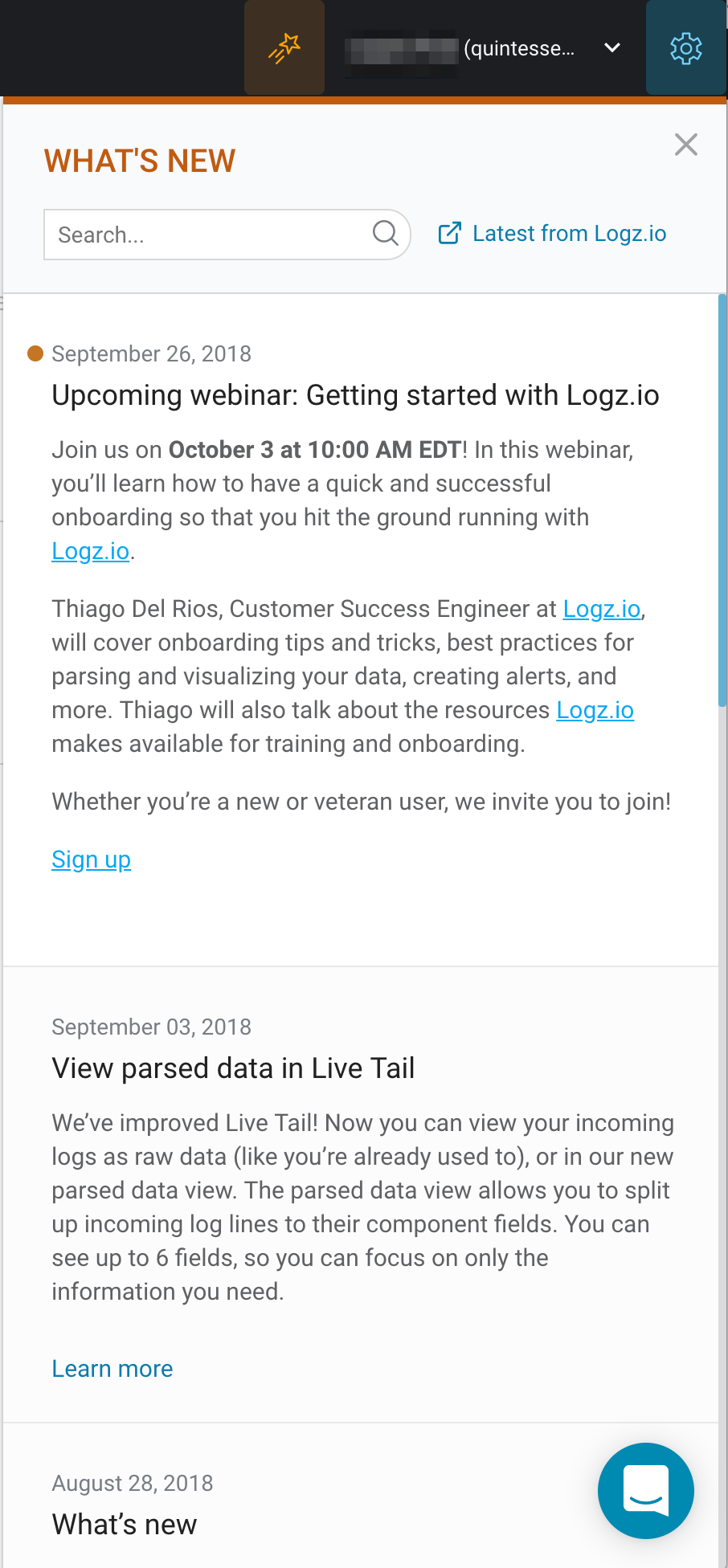 Once you have closed the notifications view the shooting star will disappear. You can view past notifications at any time from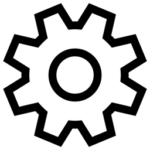 → What's New.
Token management updates
Speaking of tokens, we recently changed how you manage tokens in your account. This was to provide a more visual, logical separation between the different types of tokens that we support: account, sharing, and API. To quickly review, your account token is the token that associates your shipped data with your Logzio account and/or subaccount. Sharing tokens allow you to share visualizations and dashboard snapshots using a public link that you can share with whomever you choose. Both account and sharing tokens are available for all Logzio account types. API tokens are available to Enterprise accounts only and allows those users to interact directly with our API. The only exception to this is a Pro account admin can request an API token to use with Alice, as mentioned above.
The various token types are now located at the following places in our UI:

To learn more about managing your shared and API tokens, please take a look at their respective documentation pages here and here.
Logz.io Community's first AMA
Over the summer, we announced Logz.io Community. As a quick recap, our Logz.io Community Slack allows engineers to talk not only about Elasticsearch, but other topics relevant to DevOps, security, and infrastructure as well.
To add some additional expertise in the mix, we're launching our AMA ("ask me anything") series that allows you to connect with various experts and executives in both Elasticsearch and the broader DevOps space. Our first community AMA will be with Asaf Mesika, our chief architect, on Wednesday, October 10th at 9:30 AM EDT / 1:30 PM UTC. To join or view the conversation, please register on our Logz.io Community Slack here.
About Asaf
Asaf Mesika is our chief architect here at Logz.io. He combines his passion for clean code, 17 years of experience and appreciation for great teamwork to build a truly outstanding open-source based Log Management product. Prior to joining us, Asaf worked at Akamai developing a real-time data pipeline and query engine for their scale security product. Outside of work, Asaf co-founded both Java.IL, the Israeli Java User Group, and Tech Leads IL, the leading community for Tech Leads in Israel. You can view a couple of Asaf's past conference talks here and here.
Where We'll Be and Where We've Been
Summer was quite the busy time for us! We sponsored and spoke at a few conferences in both the United States and Europe:
Powering through the end of the year, we will be at a few large conferences in both the United States and Israel:
Please feel free to stop by with feedback, questions, or just an informal chat. We'd love to meet you! You can also send feedback to us at info@logz.io.
Upcoming Webinar
Last but certainly not least! We have a webinar coming up on Wednesday, October 3rd, at 10 AM EDT / 2 PM UTC. Whether you're interested in learning how to get started with a new Logzio account or improve some of the workflows in an existing account, please join our Customer Success Engineer, Thiago Del Rios, as he covers onboarding tips and tricks, best practices for parsing and visualizing your data, creating alerts, and more. Thiago will also talk about the resources Logz.io makes available for training and onboarding. Click here to register.