Logz.io Makes top 100 on SaaS 1000 List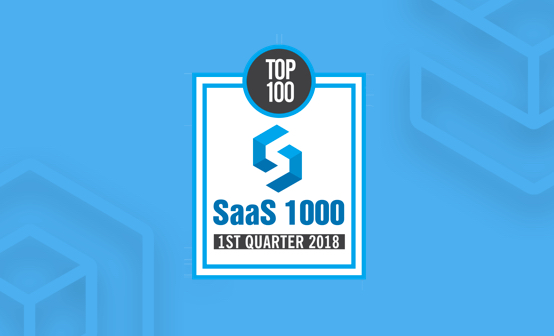 There's a lot of hype surrounding the SaaS industry, and rightfully so. According to Statistica, the size of the SaaS market has grown from $5.56 billion in 2008, to $116.39 billion today. That's a growth rate of $110.83 billion in just one decade! Furthermore, many SaaS companies are ambitious in scaling their businesses, the quickest of which increase their workforce by 56% each year.
Logz.io is no exception to these statistics. After all, getting the best people on board enables us to further refine and develop our product, in order to make it even more useful for our customers. Due to our high growth rate, we are proud to be named number 80 on the SaaS 1000 list–a list which ranks the fastest growing SaaS companies in each quarter. Our position on this list places us among the top 100 fastest growing SaaS organizations in the world for the first quarter of 2018.
According to the SaaS 1000 founder, Tom Blue, SaaS businesses are continuing to grow at an exponential rate. As a result, the companies featured this quarter grew faster than the previous one.
"The SaaS Sector continues its high growth. In fact, it has increased" explains Tom Blue, founder of SaaS 1000. "This quarter's Top 1000 companies grew faster than last quarter's list. Congrats to these accelerating companies."
Our growth as an organization further indicates that our product is meeting a vital need in the IT operations industry. Following our $23 million Series C in November 2017, Logz.io has been ambitious in its expansion in both Boston and Tel Aviv, adding 22 employees in both locations. In addition, we see more and more users drawn to our scalable and intelligent log analysis technology.
To date, Logz.io has raised a total of $46.9 million and has focused on releasing several new features including our AI-based Application Insights, Data Optimizer, Parsing, and Live Tail, as well as two open source tools enabling scalability, Sawmill, and Apollo.
Since starting Logz.io four years ago, our goal has been to provide a log analysis service that empowers organizations to attain maximum insights from their machine data, making the entire log analysis process easier, and more effective. Our appearance on this list indicates we are doing something right, encouraging us to continue releasing more features to further innovate in this space.
We are excited to see our customers using our unique log analysis capabilities to detect and isolate incidents and gain better insights from their data. We love the fact that we can help organizations scale ELK, making it easier for enterprises to take advantage of this powerful open-source tool.
Logz.io is honored to be among the top 100 fastest growing SaaS companies globally and we are looking forward to continuing to grow both in size, as well as in our offerings, by providing a log analysis service that fulfills a real need in the IT community.
Completely free for 14 days, no strings attached.