Announcing $23 Million Series C Funding to Drive the Future of Log Analytics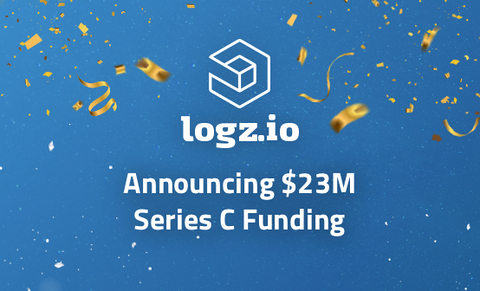 I'm excited to announce today that we have raised $23M in series C funding led by our existing investors Openview with participation from 83north, Giza, and our new investor, Vintage Investment Partners. We're lucky to have partnered with investors who are very aggressive in supporting our rapid growth and have decided to double down on their investments in Logz.io. 
We're at the beginning of what promises to be a busy few years in our space, and to me, this funding is a significant milestone for looking back and sharing some of our plans. 
As founders, we tried to use existing log management tools and felt frustrated by the complexity, cost and the difficulty in actually finding what you're looking for. 
So we started Logz.io three years ago with a lofty, but straightforward goal. We wanted to help engineers, like us, understand the value locked in machine-generated data. With this goal in mind, we envisioned a platform which provides customers with a simple way to look at vast amounts of data, enabling them to be laser-focused on the data matters. We believed this technology would dramatically improve production monitoring and troubleshooting, enhance security monitoring and analytics, and help customers extract better business insights from machine data. 
As we developed Logz.io to combat these issues, open-source, collaboration, cloud, and machine learning were always our core pillars. Open-source provides freedom and power of choice to the end-user and puts a heavy burden of excellence on us as a vendor. The cloud enables scale and collaboration, and machine learning that runs centrally across the different data-sets, allows us to offer unprecedented insights into machine data.
Fast forward three years later, and we're servicing more than 400 customers while over 800 companies use our community edition offering. Our customers include some very sophisticated organizations such as Turner Media, Sophos, Oracle and Rent-A-Center which use Logz.io as a core log analytics platform. 
We help our customers take advantage of the best open-source out there (ELK), which for the first time, runs at scale without any overhead on their end. On top of the ELK, we've built a best-in-class log analytics platform that enables even the most sophisticated users to easily scale and extract value from their data.  
Perhaps, the part we (and our customers ) are most excited about is our machine learning technology and how it helps automatically highlight issues. Last year, we released Cognitive Insights which applies machine learning to user-behavior and community knowledge to help reduce the time it takes to find an issue. We've seen exponential growth in adoption and couldn't be more excited about the way customers are taking advantage of this unique capability. 
Today, we're excited to release Application Insights and Data Optimizer. We're staying true to our vision by continuing to innovate with new technologies to help find the essence of data, discover production issues faster, and reduce the overall complexity and cost. We believe there is a better way to investigate machine-data and with today's release, we're one step closer to being there.  
Our north star remains bright and strong. We're here to help our users get value from machine-data, and we're going to use this funding to double down on more research, development, and overall product innovation. In the coming months, we'll be releasing significant usability enhancements, new regions and even more advanced compliance certifications.  Stay tuned for more capabilities already-in-the-works and some surprises we're developing in the near future.  
It's also a great time to thank our customer community. We couldn't be more appreciative and humbled by the support, commitment, and feedback in building Logz.io. You're the reason we do everything we do. 
Over the last three years, we grew our team from 0 to 100 employees across two different continents. We're fortunate to have a team that makes the impossible possible every day with a lot of sweat and tears.  
We are also immensely grateful to our growing partner ecosystem for helping us make customers successful and grow our reach.  
Last but not least, thank you to everyone who has been a part of the Logz.io journey. We are lucky to have had the opportunity to work with you to this point and look forward to what the future has in store.
Completely free for 14 days, no strings attached.