We're happy to announce that we have upgraded to Kibana version 5.5.3!
As you may know, this version of Kibana includes some major changes compared to previous versions, including new field filtering options, new visualization types and options, and plenty of small UI and UX changes.
You can read about these changes here, but we would like to highlight some changes to be aware of that may affect how you analyze and visualize your data in Kibana.
Edit Mode
In previous versions of Kibana, you could apply changes to the appearance of your dashboards directly when viewing and accessing them. Now, changes can be made in a new Edit Mode which can be opened by clicking a new Edit button in the top-right corner of Kibana.
Once you enter Edit Mode, you will notice that the borders of the different visualizations are dashed, and you will be able to make any changes you like.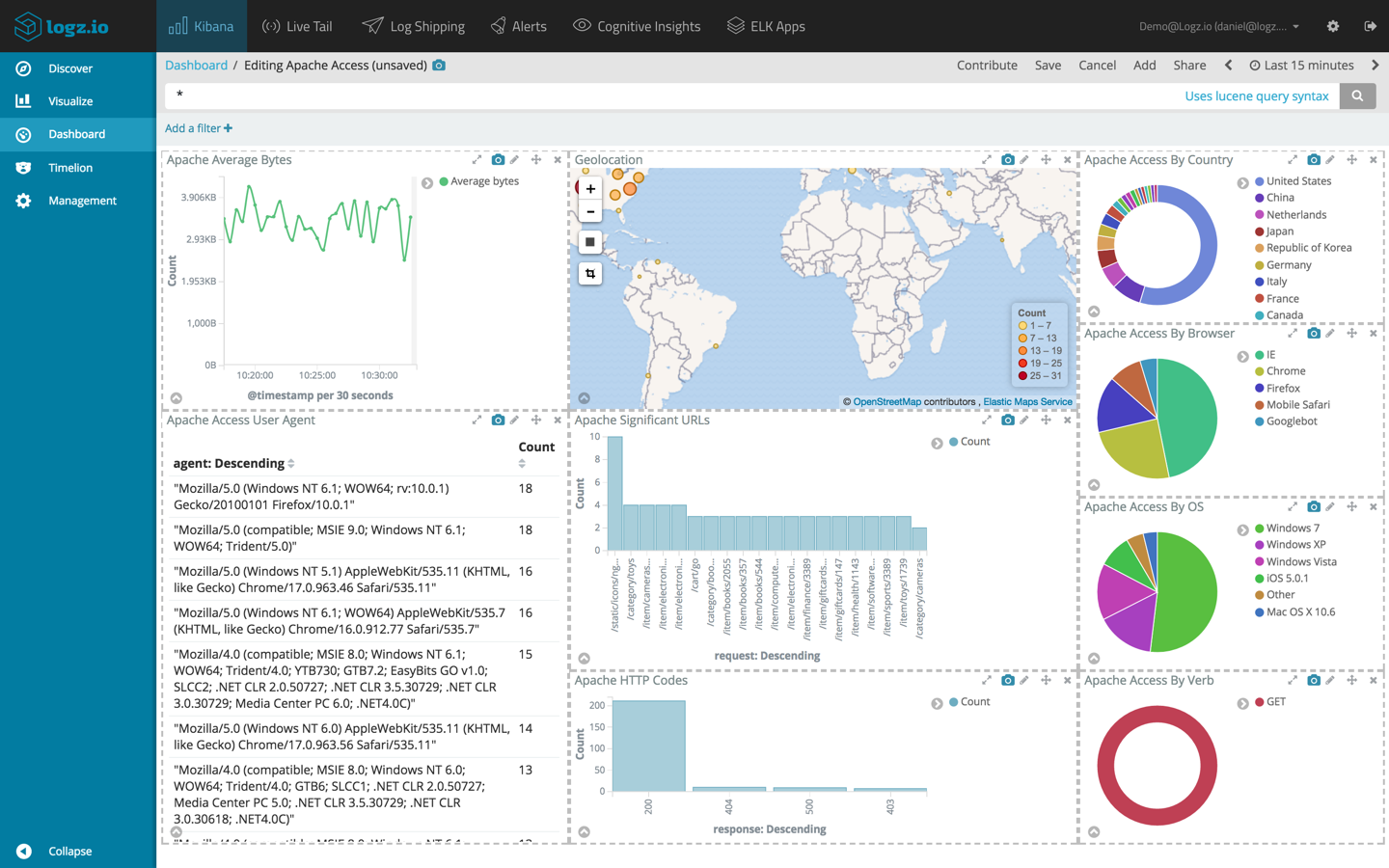 Once made, hit the Save button to apply the changes.
Surrounding Events
One of the features we added to Kibana was the ability to easily see events taking place before or after a specific log message. Using a +/- button, you could see messages logged, for example, 10 seconds before and after a log message.
We have removed this feature in favor of new and improved behavior added to Kibana 5.5.
When opening a specific log message, you now see a View surrounding documents link at the top-right corner of the expanded view.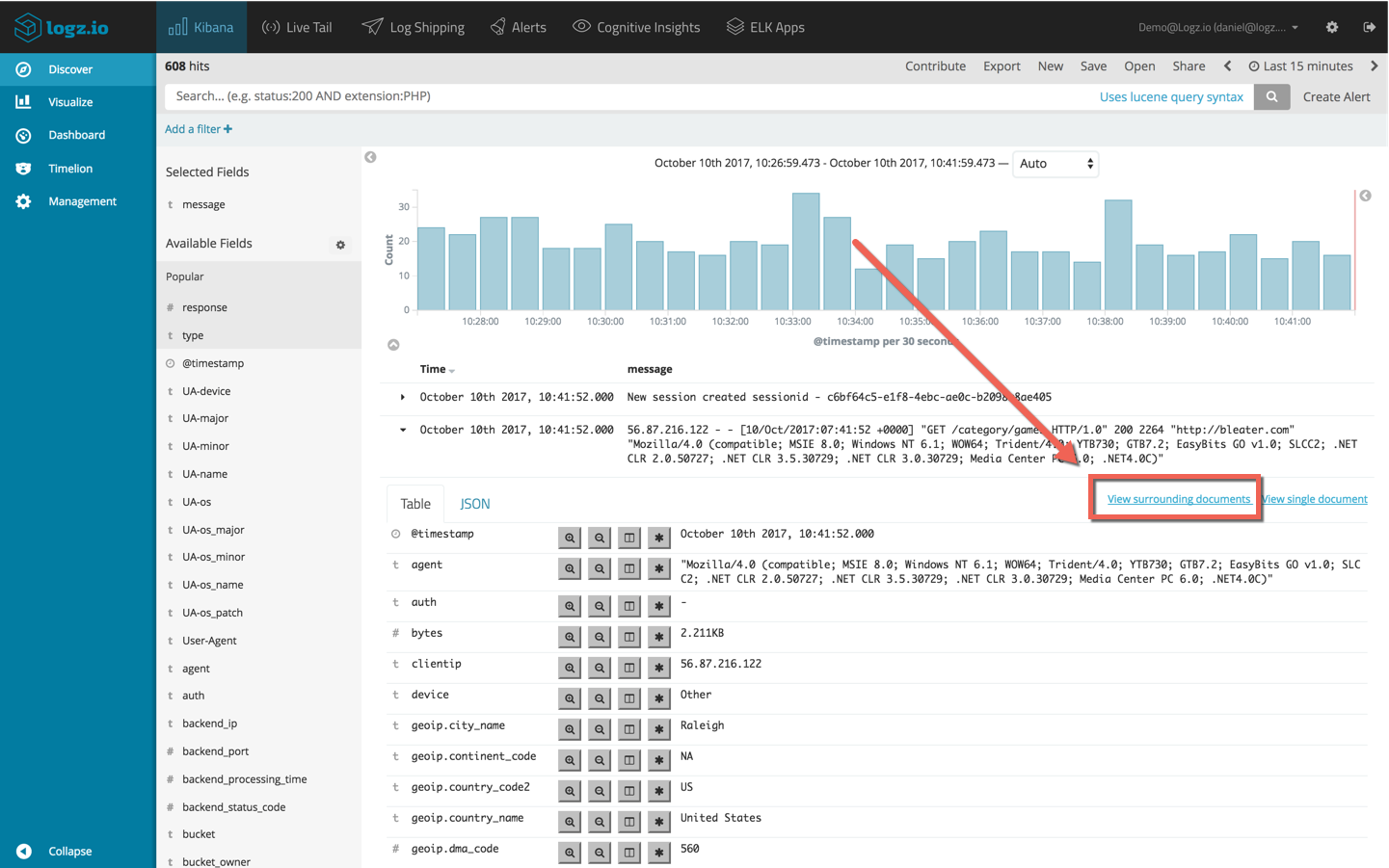 This opens up a new dedicated view, which allows you to more easily analyze the documents logged before and after the specific log message.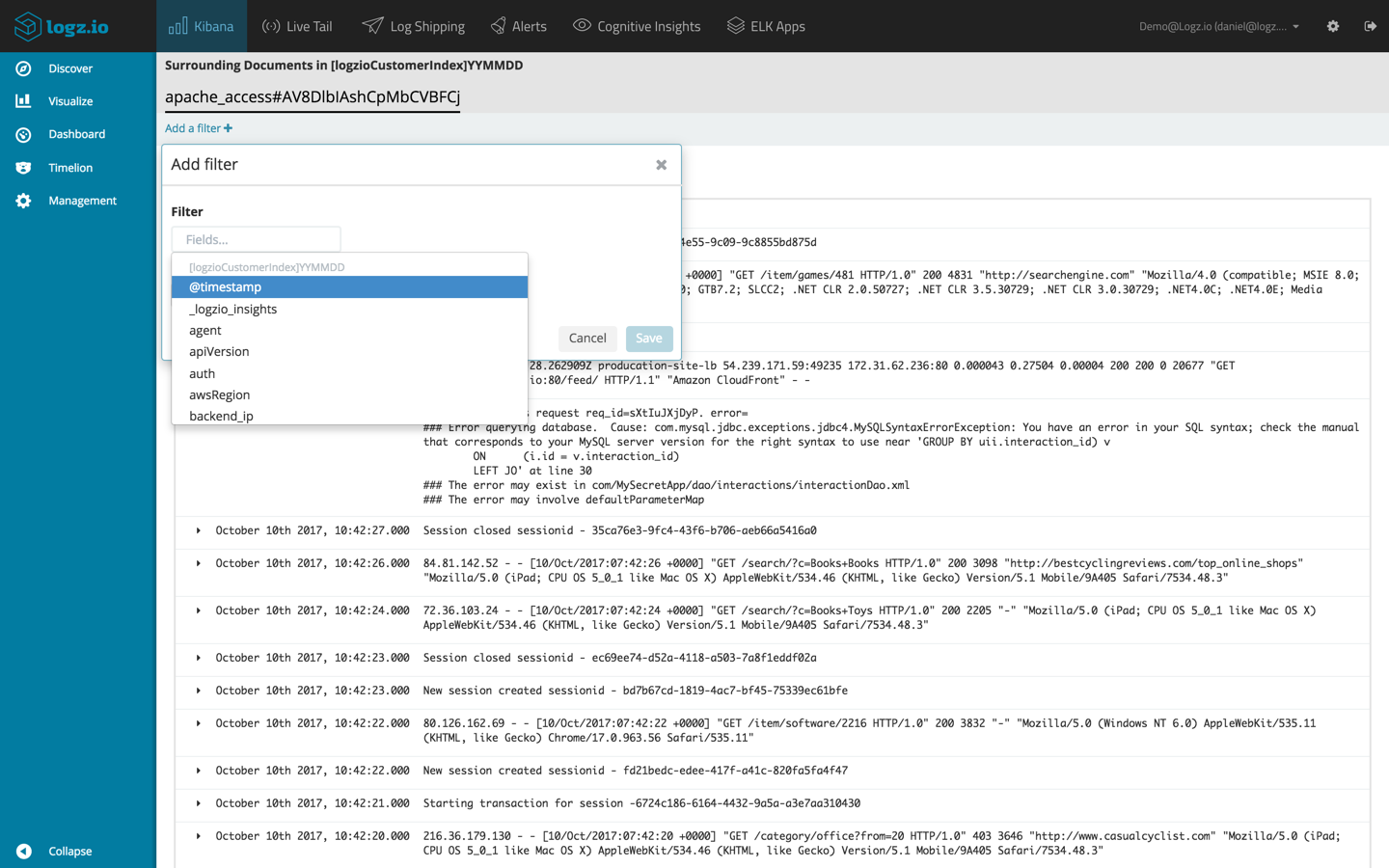 Field Filtering
One of the most useful features added to the recent versions of Kibana is the ability to filter log more easily.
Whereas in previous versions of Kibana we used the search field to query for specific fields and values, users can now use a new dialog to easily filter the logs. To access the dialog, simply click the Add a filter+ at the top-left corner, and enter your filtering rule.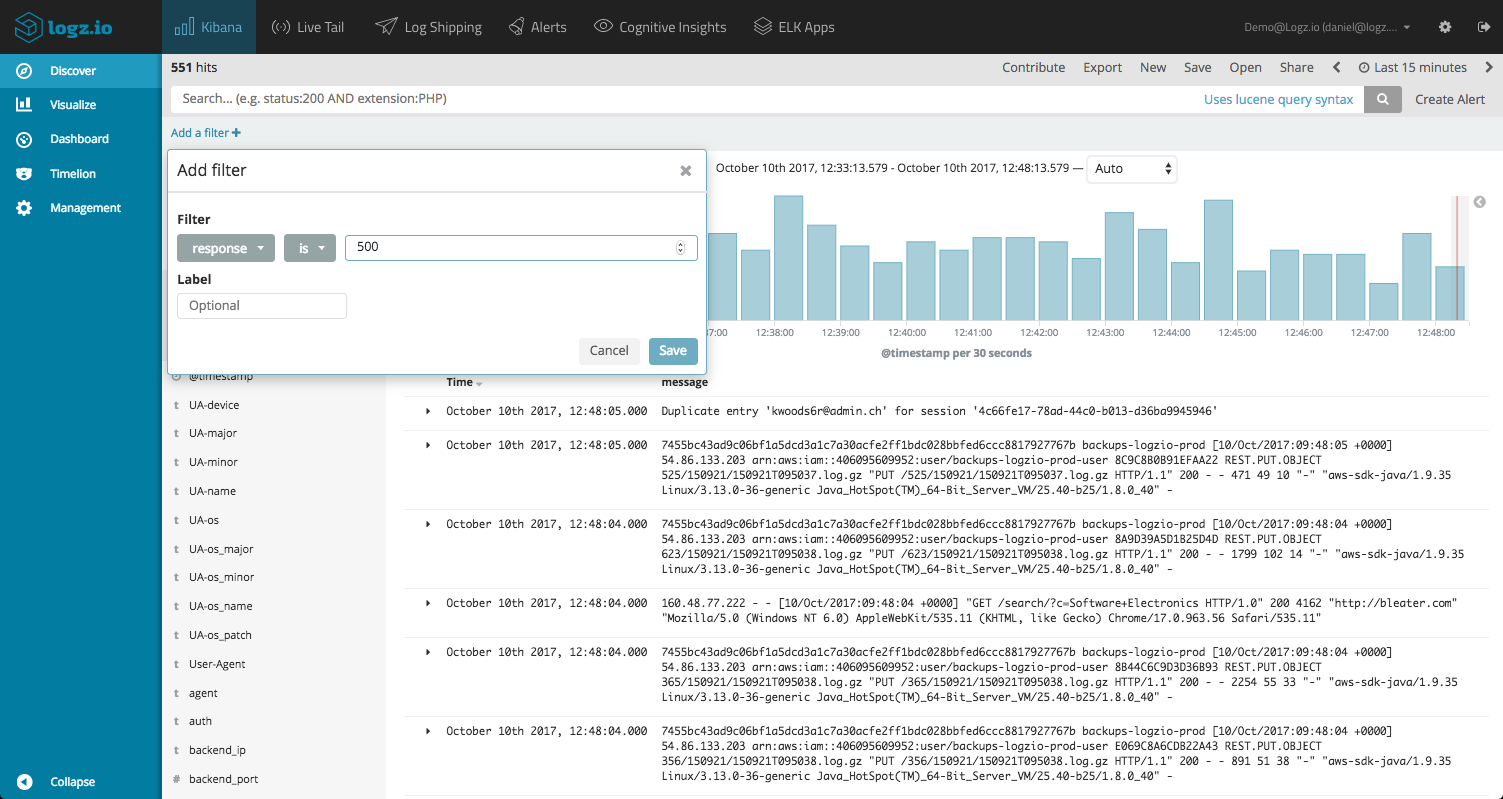 Metric Visualizations
This visualization type is great for displaying single numbers or metrics, but changes made to this version of Kibana can, in certain cases, disrupt the way these visualizations are displayed.
If the visualization is too small, you will see a message saying that the data is not displayed correctly: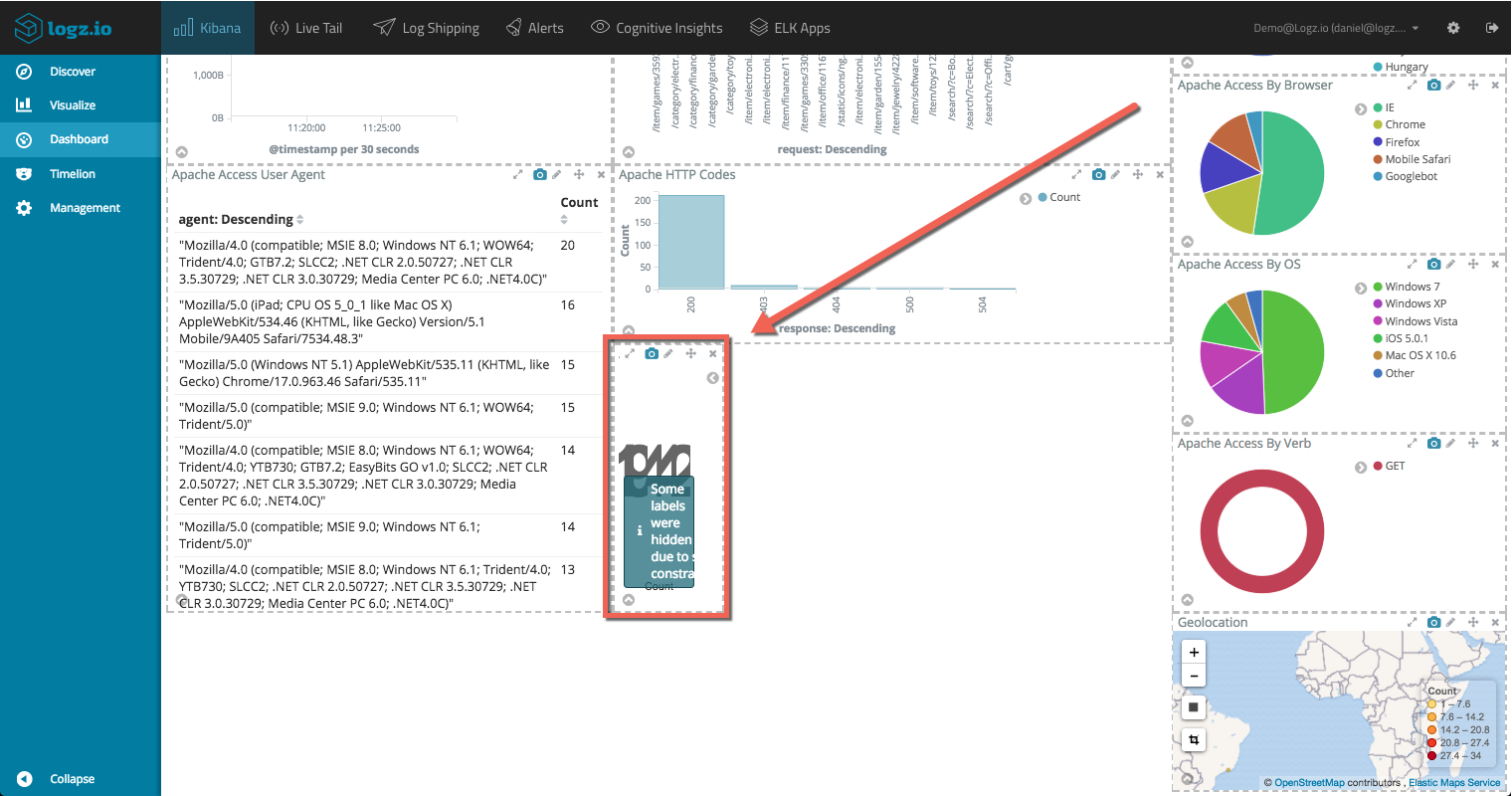 This is especially relevant when using split metric visualizations since these are by definition wider. In this case, metrics might overlap depending on the size of the visualization.
An easy way to fix this is by simply expanding the visualization itself. Another workaround is to lower the font size. This can be done by opening the Options tab for the visualization and using the Font Size slider.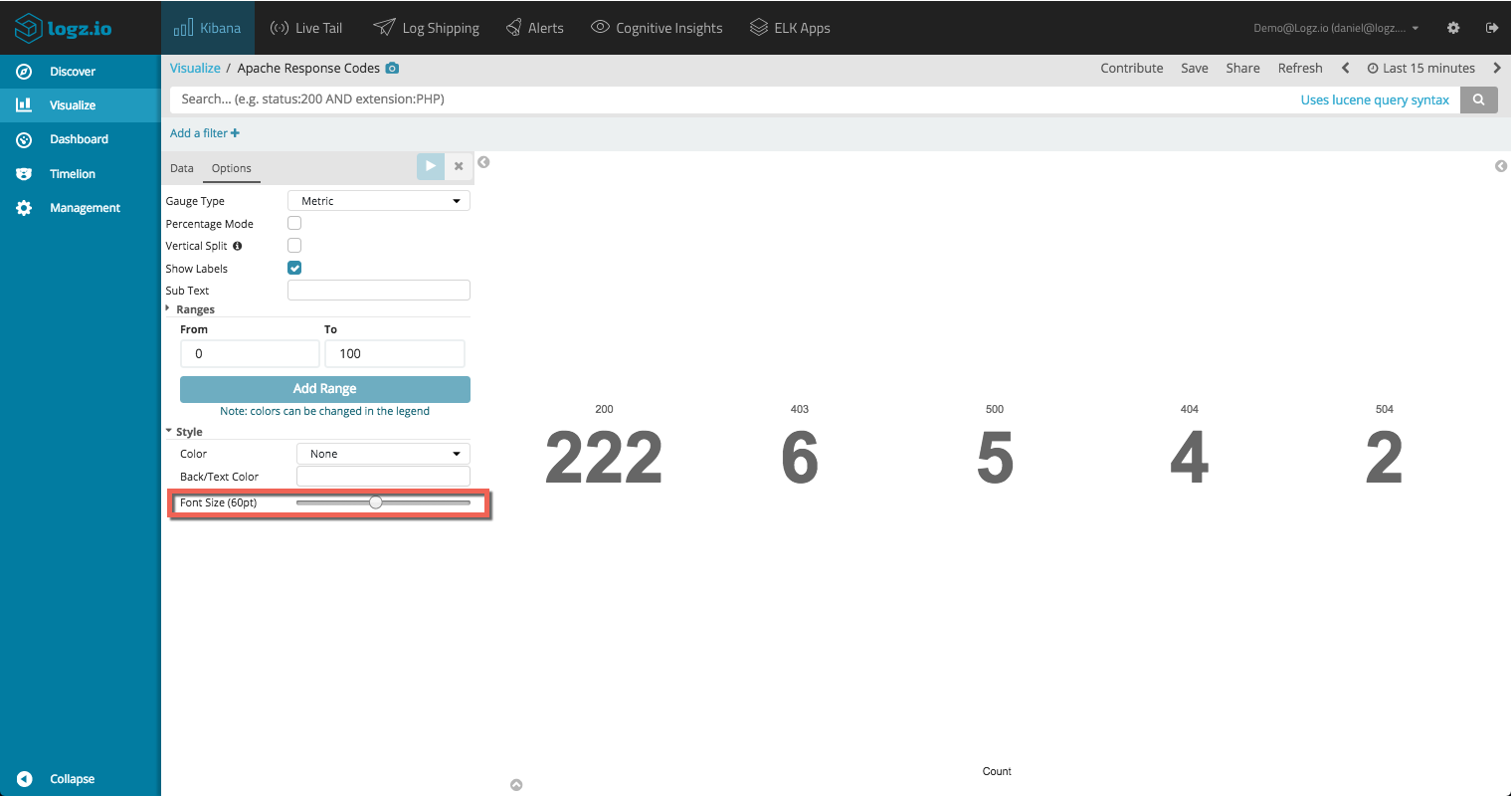 Bar Borders
Last but not least, CSS changes made in Kibana 5.5 have added borders to the bars displayed in bar chart visualizations. The idea behind this change is to help you distinguish between the different elements in the visualization, and the result guarantees that there is no visual merge when viewing the bars.
That's about it!
We always try and support the latest stable version of Kibana and believe our users will enjoy the latest changes and improvements in version 5.5. If you encounter any other issues or have any additional questions, feel free to let our support team know!

Check out our additional features for Kibana