Logz.io Introduces ELK Apps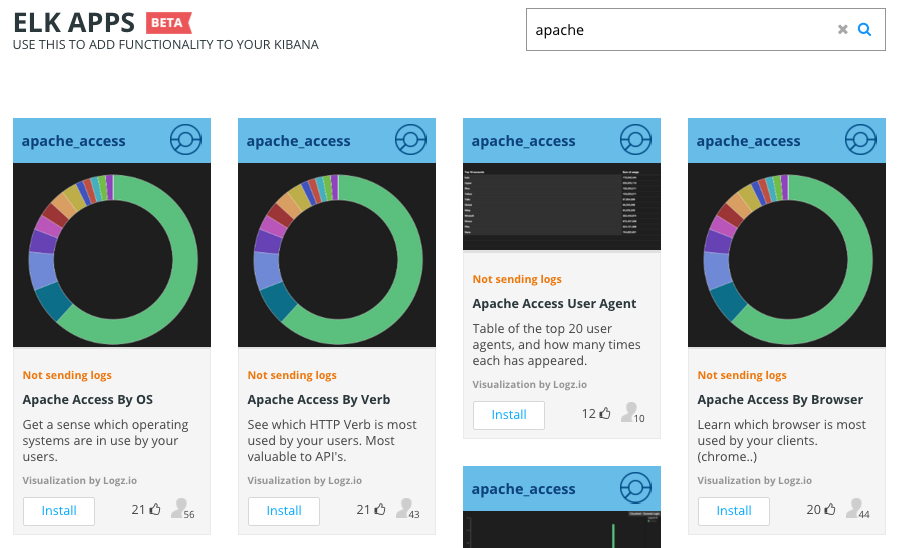 Today we're proud to introduce ELK Apps from Logz.io. ELK Apps is the largest collection of applications for the ELK Stack, and it's all open to everyone free of charge. We already have more than one hundred apps for the community — and you can find them all here!
Why ELK Apps?
While working with our user's community, we realized that everyone has much in common. Many people, for example, use similar tools and have similar goals when it comes to visualizing and getting alerts on their machine-generated data. Time and time again, we saw different users creating the same dashboards for MongoDB or the same alert parameters for Apache or Nginx logs. And a lot more!
It really makes no sense for every single user to do the same thing that others have already done — especially when their goals are similar.
So, we created ELK Apps because our goal as a company is to make the ELK Stack easily accessible and simple to use. (As popular as the stack is, hosted ELK is difficult to host and maintain on-premise.) Our objective is for users to be able to do the following in five minutes or less:
Get access to enterprise-grade ELK as a service with unlimited scalability and high availability

Ship logs and have the Logz.io automatically parse them

Gain visibility into the data via dashboards and alerts
What Are ELK Apps?
ELK Apps today include saved searches, visualizations, dashboards, and alert definitions that anyone can add to his or her environment with one click.
Apps are generated by our large community of users as well as Logz.io's proprietary machine-learning algorithms that automatically build certain applications by looking at log data and determining in what format the data should be visualized for analysis.
Here are just a few of the ELK Apps:
How Can I Use ELK Apps?
Let's say that you have shipped Nginx logs to Logz.io. You can go to the ELK Apps page and search for "Nginx." Then, you will immediately see a collection of apps for Nginx: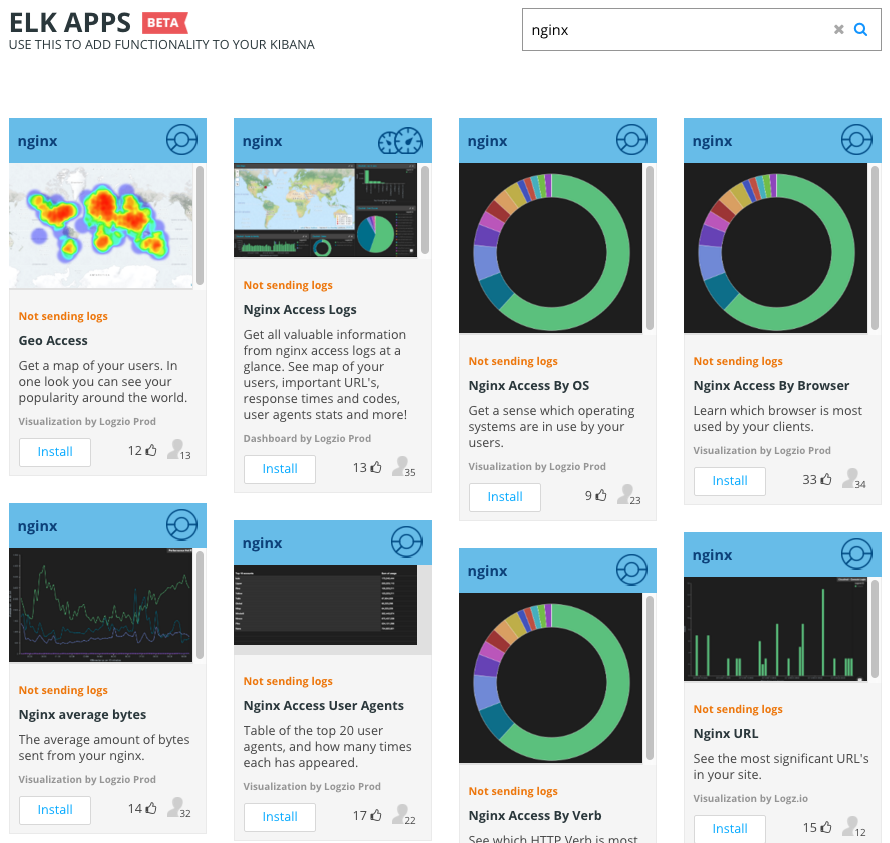 You can go through the different apps to see which specific ones would suitable for you and then add them to your environment with one click of a button. Then, you can open them and see the data immediately.
What If I Run My Own ELK Stack?
Even if you run your own ELK Stack, you can still take advantage of ELK Apps by opening a free account with Logz.io, downloading the apps that you need, and then going to the Kibana settings page to export the relevant objects.
Warning: Although it's possible to use ELK Apps in your own stack, only experts should attempt it. The Kibana export and import requires a deep understanding of the platform, and we at Logz.io cannot guarantee that ELK Apps would function properly outside the Logz.io environment.
How Can I Contribute Apps of My Own?
We could not have done this without the contributions from our users.
We've added a "Contribute" button to every object in Kibana. All you need to do is save the search, visualization, or dashboard that you want to contribute and click on the "Contribute" button. You can select an image, write a short description, and name the app.
All apps are reviewed by us, and it usually takes between one to two business days to approve an app.
To learn more about how to use ELK Apps to build an end-to-end log analytics operation to monitor your environment in five minutes, watch this webinar. We're really excited to release ELK Apps, and we hope the community will like it — check it out and let us know what you think in the comments below!
Completely free for 14 days, no strings attached.