The Top 5 DevOps Podcasts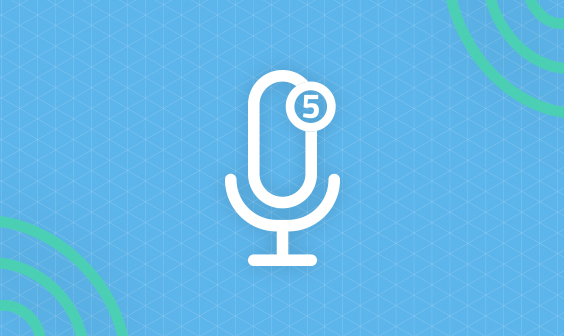 In the tech world, it's always important to stay up to date on the latest and greatest trends, information, philosophies, and concepts. Blog posts are a wonderful way to get information, but they are static. Tech articles in mainstream news outlets, whether online or in print, often take so long to get published that they are behind before they even begin.
Podcasts have jumped into the arena of tech education with both feet forward. Originally a format for entertainment, podcasts — especially in the tech space — have become more and more prevalent as a way to stay up on what's new in the communities in which we work.
Here at Logz.io, we are big proponents of the DevOps movement and community — so I would like to share my top five DevOps Podcasts. Give each a listen and let us know what you think!
#5: DevOps Cafe
In spot number 5, we have the DevOps Cafe — a great pastiche of all things DevOps. Hosted by Damon Edwards and John Willis, the cafe focuses on the latest and greatest, bringing the most well-known names of DevOps community from the big stage to the familiar environs of wherever you listen to your podcasts. Easily a top contender, the only thing keeping this podcast in fifth place is the erratic schedule — but this is somewhat understandable as both hosts travel quite a lot.
#4: Continuous Discussions
Powered by Electric Cloud and with a focus on Continuous Delivery and Continuous Integration (at least initially), Continuous Discussions is a podcast outside the mainstream. Hosted by Sam Fell, Continuous Discussions functions on the panel — four or five guests all discussing the topic of the episode. This brings more value to the discussions and more perspectives.
#3: ThoughtWorks
ThoughtWorks has long been an industry leader when it comes to development and tech philosophy. The Agile Manifesto hails from ThoughtWorks, and many of their engineers were the first to start pontificating on the ideas of DevOps.
While the podcast itself is not specifically DevOps related, there are so many pearls of wisdom coming from this one on topics including DevOps, programming philosophies, current events in coding (codes of conduct, code tests in job interviews, and so on), innovation, and open source that we would be remiss to not include it in any top five list.
#2: DevOps Mastery
Mastery is always the goal when it comes to skill acquisition. Whether it's learning an instrument, a new coding language, or finding the perfect DevOps flow, it's important to find the masters and learn from them. DevOps Mastery is a podcast focused on answering two questions — what is the best, and how can we use it? Hosted by Brian Wagner, a veteran of the nexus between systems administration and development that is DevOps who spawned the concepts that we are learning today.
#1: Arrested DevOps
Hosted by Bridget Kromhout, Matt Stratton, and Trevor Hess, Arrested DevOps is focused on best practices and set up to help both teams and organizations to realize their DevOps Goals. Featuring guests from all over the DevOps spectrum, ADO, as the hosts lovingly refer to it, brings together community leaders, speakers on the DevOps circuit, and people leading the movement conceptually and includes concrete examples from their teams and companies.
I was lucky enough to peek in on a live recording of ADO at DevOpsDays Toronto, and it was easy to see the allure — people who lead their fields were sharing their thoughts on how to achieve better results from teams and individuals. Arrested DevOps definitely stands out as ahead of the pack when it comes to podcasts in the DevOps community.
Conclusion
The DevOps community is ripe with information. Getting that information out on a regular basis is part of what makes podcasts easy, accessible, and portable. Enjoy these podcasts — and if we've left out your favorite, let us know what we've missed in the comments below.
Completely free for 14 days, no strings attached.