How you can take back control over your log analytics with AI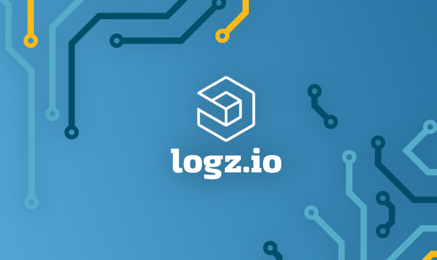 We've all been there — you're on-call, fast asleep at 3 AM when suddenly, in comes the alerts–in overdrive. Your system is notifying you of some sort of abnormal behavior, but with all the alerts and data coming through, its difficult to figure out what your system is trying to tell you. Is there potential malicious behavior? Did someone write faulty code? Is it an important issue or can it wait? Is it nothing at all?
As we know, some alerts matter, but too many alerts are just plain excessive and can be overwhelming. To make matters worse, you have so much data to sift through, you can hardly figure out which information to focus on and which is simply noise.
AIOps to the Rescue
While anomaly detection has helped separate the useful information from excess data, the algorithms aren't smart enough to provide context, helping you to figure out the best way to resolve an issue as fast as possible — and when the time is of the essence — we need intelligent, insightful solutions to our Big Data problems.
That's where machine learning comes in. Machine learning uses smart algorithms to cut through the excess noise produced in IT environments. The practice of leveraging AI and machine learning for this purpose is a growing field known as AIOps. This industry is quickly expanding with companies harnessing machine learning technology to cut through the clutter of data produced in complex IT environments.
In fact, according to Gartner's recent report entitled "Cool Vendors in Performance Analysis, AIOps Focus" published May 4, 2018, "By 2022, 40% of large enterprises will use artificial intelligence for IT operations (AIOps) tools to support or replace monitoring and service desk tasks, up from 5% today." The report also shows that out of 227 respondents, 37% of Intelligent Alert/Event Noise Suppression (Clustering) and 26% of Predictive Insights opportunities are driving AIOps Adoption.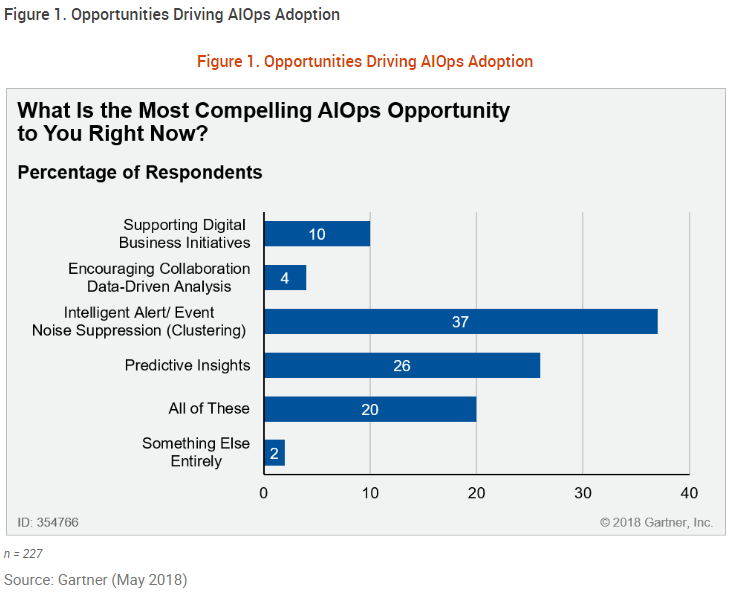 We are proud to have created our patented Logz.io Insights Technology to tackle both of these issues. Logz.io Insights combines machine learning algorithms with human knowledge to identify and contextualize issues so you can take back control over your log data and focus on the issues that matter most. Logz.io Insights is unique in the industry. We believe this is why Gartner has named us one of the "Cool Vendors in Performance Analysis, AIOps Focus". We are thrilled and honored to be recognized for this work.
Helping you Achieve More
As we mentioned, the overwhelming amount of data and alerts received is one of the primary frustrations DevOps and IT Operations professions encounter every day. They are responsible to ensure their systems function, but without visibility into their system, they waste time trying to get to the root of an issue, preventing them from focussing on improving their products. Sorting data is part of this issue, but contextualizing that data is a game-changer.
Logz.io Insights does all of this work for you.
The patented Unified Machine Intelligence (UMI™) engine leverages hundreds of different data sources to understand how humans interact with data. The technology sorts data then compare it to online resources to see how people troubleshoot and resolve various issues. This means users not only know which data is important but are able to resolve problems faster and with greater effectiveness. We pride ourselves in knowing that this technology has saved our customers, time, money, resources, and credibility by stopping incidents in their tracks before they affect their product's performance and their organization's bottom line.
In fact, customers such as Unity, Form3, and Rent-A-Center have already seen a tremendous impact from using Logz.io Insights, cutting time-to-resolution and discovering errors before they become problematic.
We are thrilled to be recognized by Gartner as a Cool provider of AIOps solutions and are currently developing even more transformational machine learning technology to make IT Operations easier and more productive than ever before.
Gartner Disclaimer
Gartner does not endorse any vendor, product or service depicted in our research publications, and does not advise technology users to select only those vendors with the highest ratings or other designation. Gartner research publications consist of the opinions of Gartner's research organization and should not be construed as statements of fact. Gartner disclaims all warranties, expressed or implied, with respect to this research, including any warranties of merchantability or fitness for a particular purpose.
Completely free for 14 days, no strings attached.