$16 Million in Series B Funding — The Next Chapter of the Logz.io Story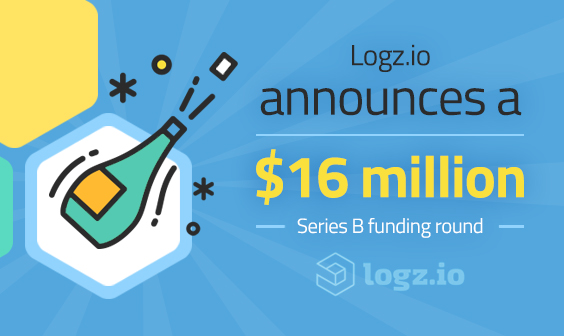 I'm excited to announce that we've closed a $16 million Series B funding round led by OpenView with continued support from our existing investors 83North and Giza Venture Capital. We couldn't be more thrilled to work closely with Jim Baum and Mackey Craven, who share our passion, culture, and vision for Logz.io.
Before embarking on the Logz.io journey, we realized that the way that engineers run their infrastructure and manage their applications has always been more of an art than a science and has typically relied more on the experience and knowledge of engineers than on data.
The first step in truly understanding how applications and infrastructure run is to start collecting the log data that they generate. However, even a medium-sized environment can log a few billion events every day. Those events will usually include millions of different types of messages from a few dozen different products. On top of it, very few engineers can really understand what these messages mean, making this a multidimensional Big Data problem.
We thought that if we could change infrastructure and application troubleshooting and monitoring into a science by helping companies to aggregate their machine data easily and determine what's actually important in that information, it would make the engineering work more predictable and proactive.
We started with the basics by first helping companies to aggregate data easily and efficiently by taking the widely-used ELK Stack and creating an easy-to-use, enterprise-grade, cloud-scalable solution around it. This enabled hundreds of companies to use the Logz.io platform to process, store, and analyze hundreds of terabytes of log data.
Then, for the next step in our vision, we released earlier this year the first version of the Logz.io Cognitive Insights™ artificial intelligence engine that can autonomously pinpoint those events engineers should be worried about. How does it know? It uses machine learning to find and rank which events are being searched and analyzed on the Logz.io platform. In addition, any questions, solutions, or documentation any engineer around the world has ever posted online in the context of specific log events is being processed, understood and ranked. The engine has already processed millions of data points to create what is probably the largest database of problems and solutions in software products.
Expecting humans to understand in real-time what thousands of machines are saying is impossible. Expecting machines themselves to understand what other machines are saying is also impossible as they don't have a human cognitive understanding. We believe that only machines that can learn from humans are those that can analyze what machines are saying accurately and then act on that specific information immediately.
The learning capability of Cognitive Insights™ combined with our open-source driven cloud ELK solution creates a synergetic platform that embraces openness and cultivates learning among numerous users to find insights into machine data easily. Our belief is that only an open system based on the scale of the cloud can combine peoples' knowledge with artificial intelligence to make sense of this Big Data problem and transform the overwhelming amount of information into stories that humans can understand.
Today, more than 1,000 companies in 80 countries already use Logz.io including Dyn, Turner Media (home to CNN, Bleacher Report, and more), British Airways, ServiceNow, and Electronic Arts (EA).
Thank You!
Here, I wanted to take this opportunity to thank the amazing people who have personally made all this happen.
Thank you to the entire Logz.io team for building this amazing company and product as well as making our office a truly fun place to come to work every day.
A big thank you for to our investors for their continued support and trust.
Last but not least, I would like to thank you — our customers and community of users and readers! Thank you for believing in us, challenging us, and supporting us. We wouldn't be here without you.
For more information on this announcement, we invite you to read our press release.
Completely free for 14 days, no strings attached.