5-min setup
Use a rich set of built-in integrations and native support for multiple platforms and applications, including: AWS, Docker, Ruby, Python, Java, .net, HAProxy, Apache, nginx, IIS, and more.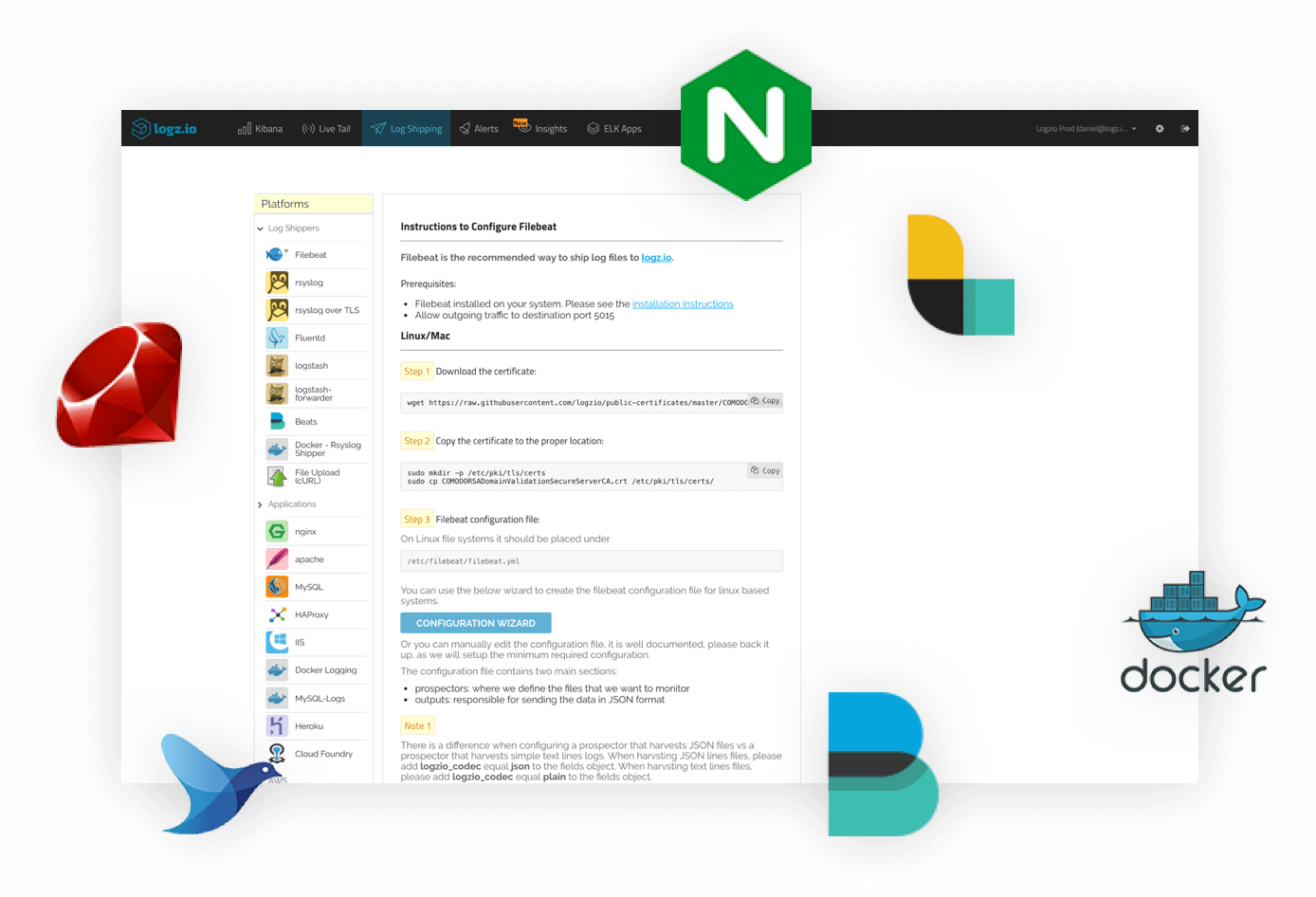 Automatic parsing
Use automatic parsing for common log types or a wizard to customize parsing yourself. Contact our Support team for assistance with specific parsing issues.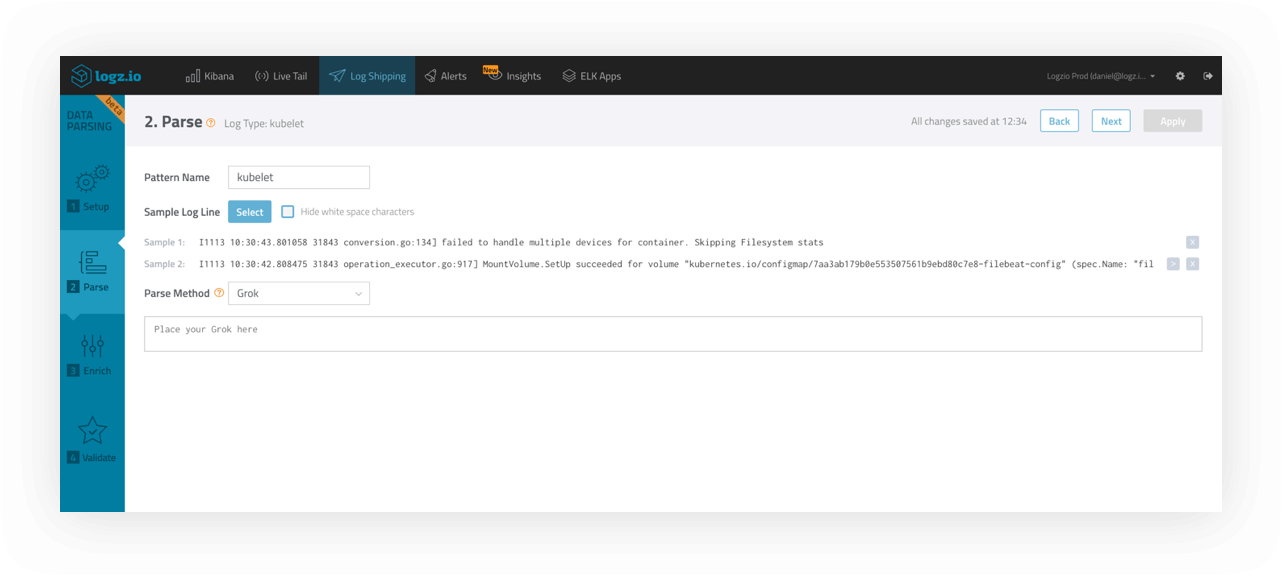 Scalability
As your business grows, so does your log volume. The Logz.io solution scales automatically with no impact on performance as you grow and can handle any sudden burst in data.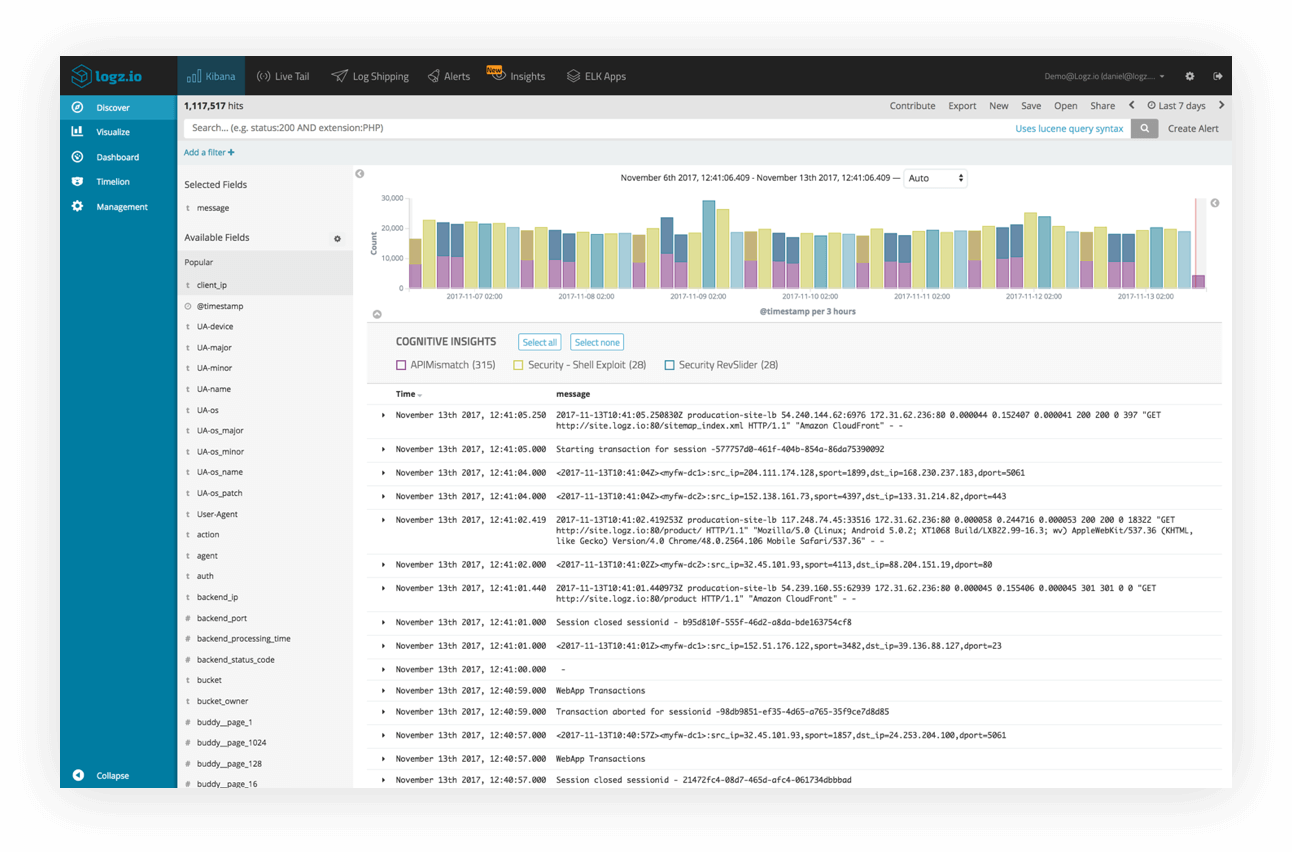 Security
Use the only ELK Stack that is Soc-2 Type II and HIPAA compliant, is ISO27001-certified, is available in multiple geographical zones, and offers role-based-access.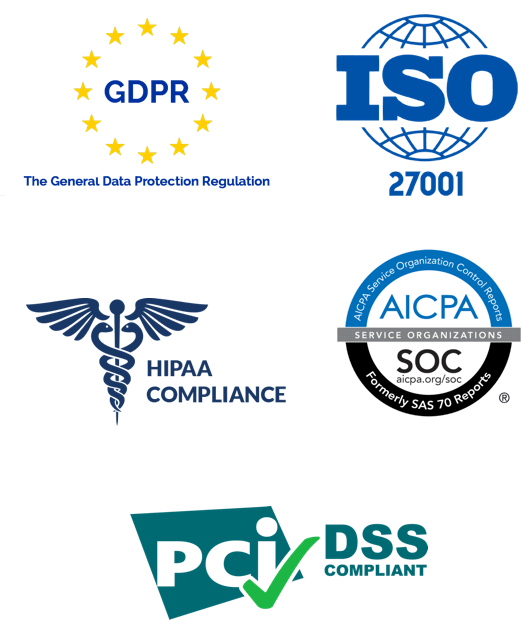 Support
24/7 support, including assistance with parsing, setting alerts, creating visualizations and searching.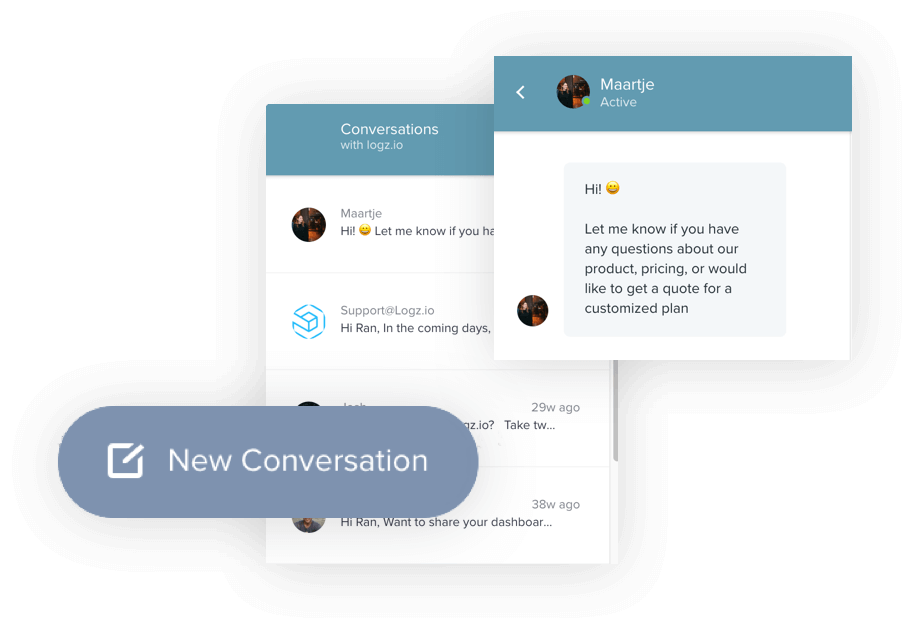 Enterprise-Class Log Analytics
Alerts
Be proactive! Logz.io ships with a built-in alerting engine so you can get notified in real-time on critical events. Alerts can be sent to email addresses as well as generic webhooks and common messaging and incident management platforms such as: Slack, PagerDuty, HipChat and others.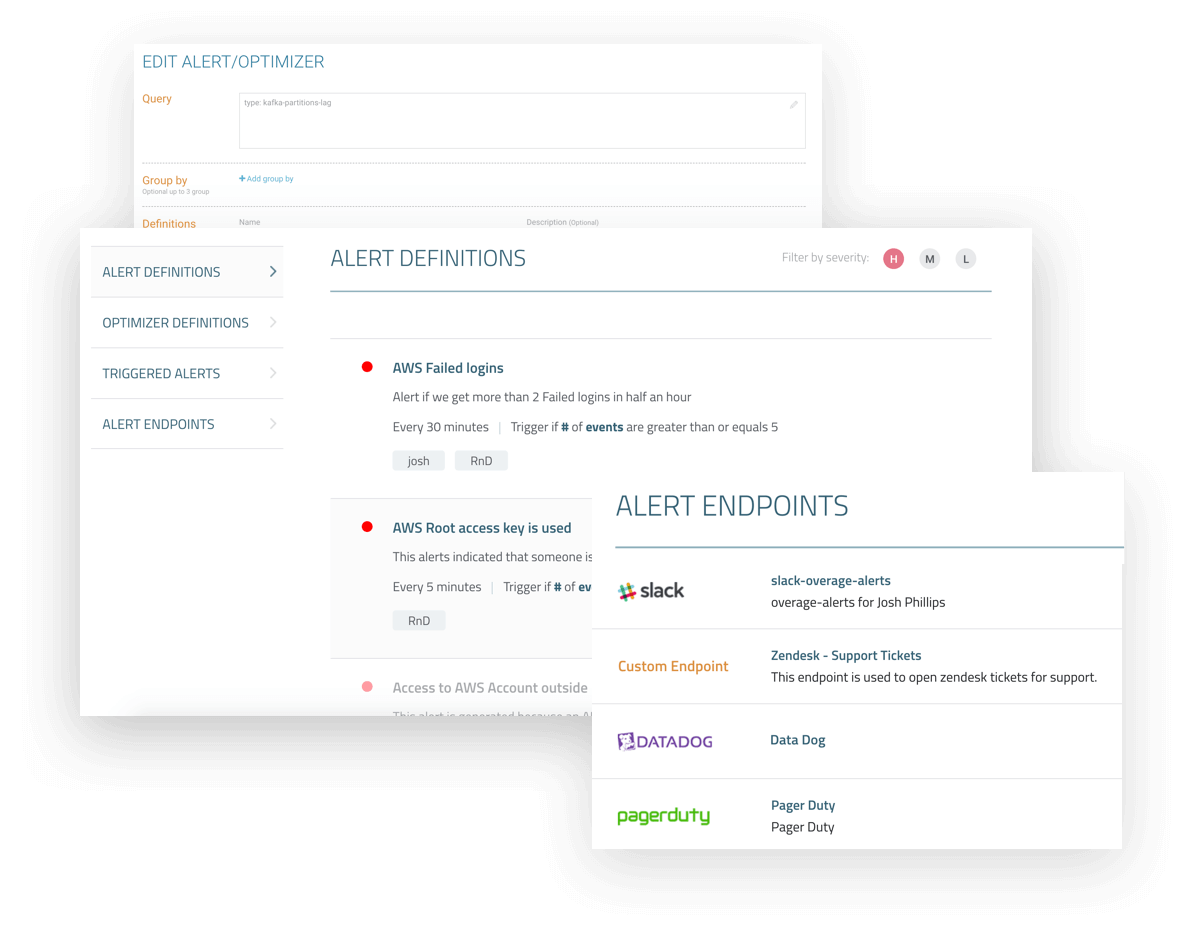 Data Optimizer
Aggregate and save important data in timeless accounts, with unlimited retention. Automate the process by configuring processors, including thresholds and scheduling rules.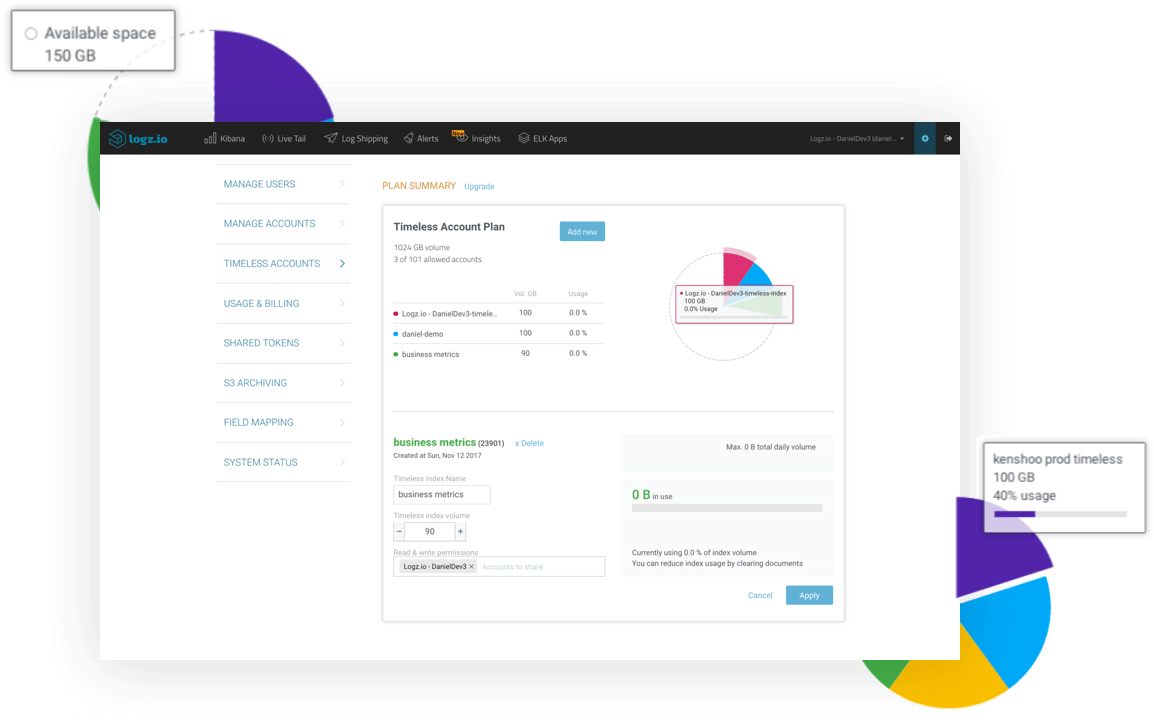 User Control
Invite your team members to collaborate, share data, and develop insights across your business. Supports Single Sign On like Google, Azure, Okta, OneLogin, AD and others integrated with MFA.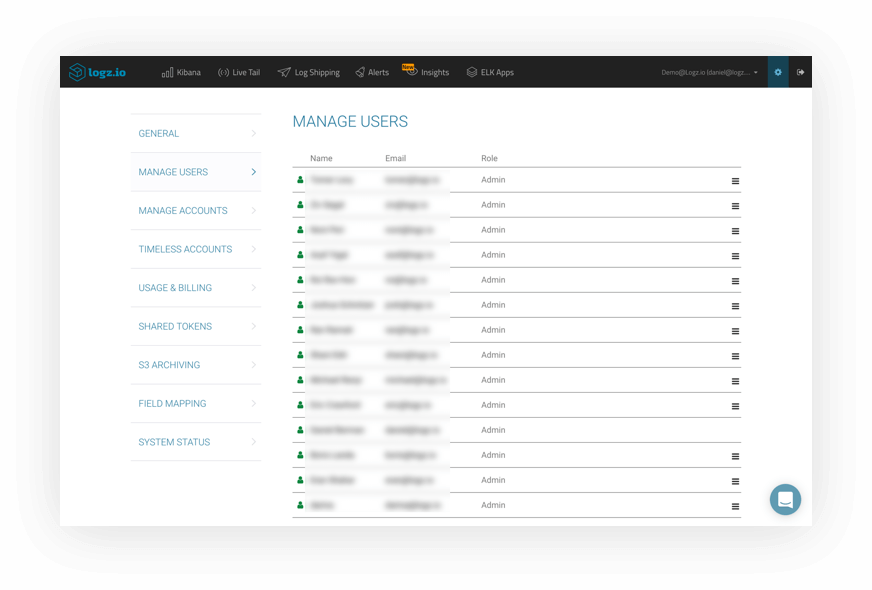 Audit Trail
Monitor actions being performed in your account. Filter actions as you see fit and export as a .CSV file for sharing and future reference.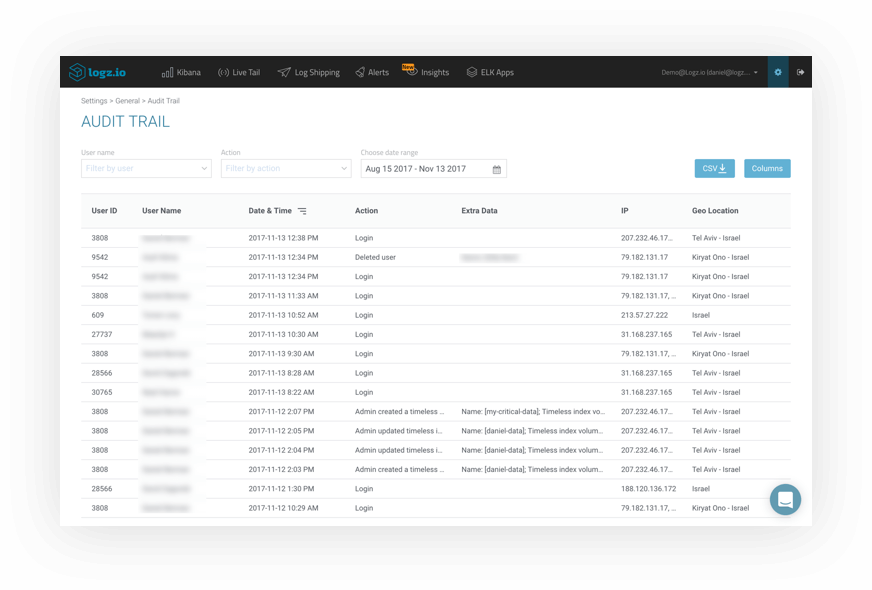 Team Collaboration
Easily share visualizations and dashboards with your team members using Kibana Snapshots, either by email or using any other supported endpoint (e.g. Slack).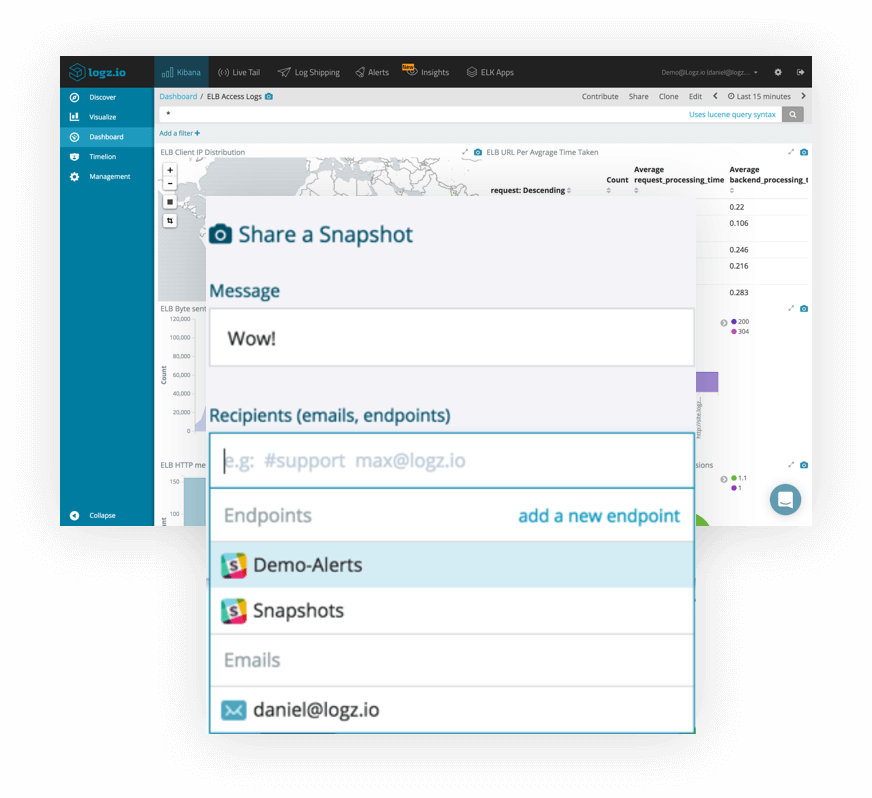 API
Secure API access to your data and to other capabilities offered by Logz.io. Programmatically access your data and gain insights.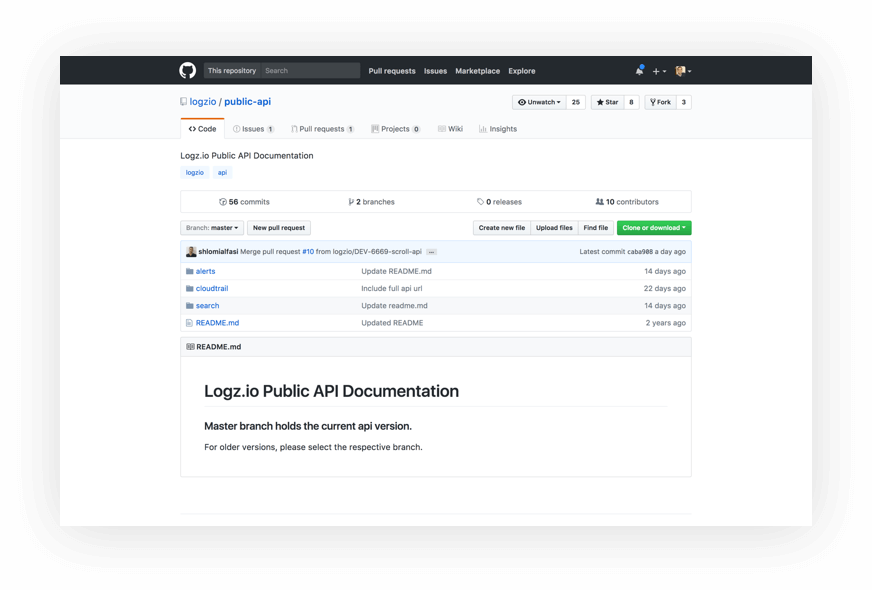 ELK Apps
Use a community-driven library of pre-made Kibana dashboards, visualizations and alerts for various applications and log types such as Apache, nginx, AWS, Docker, Microsoft IIS and many others.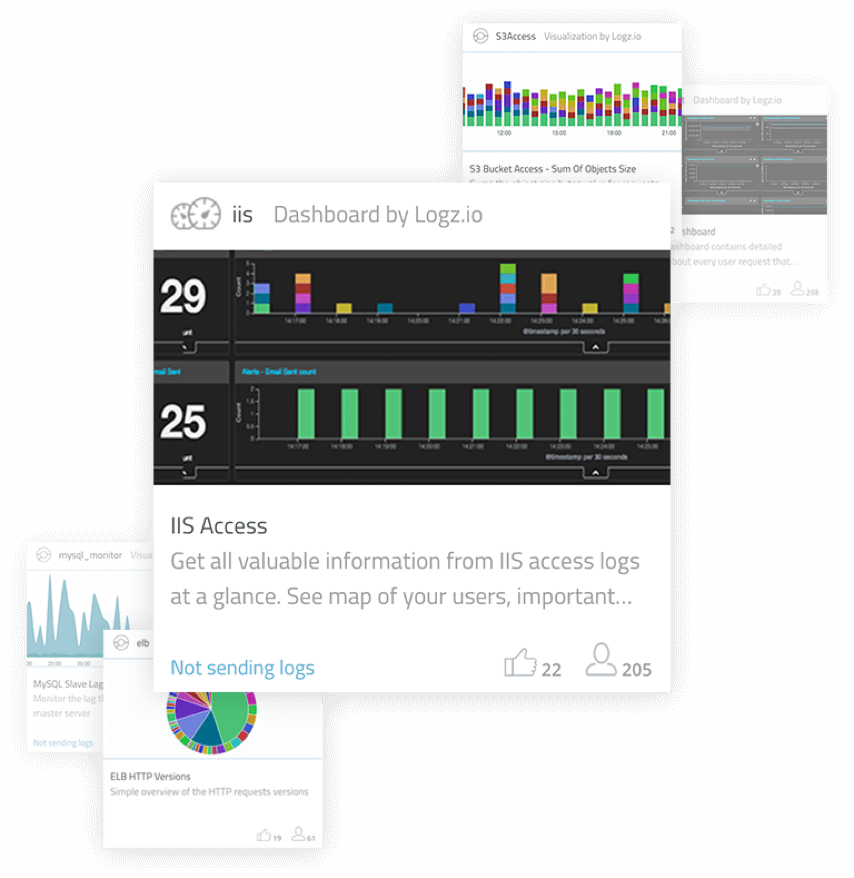 S3 Archiving
Have your logs backed up on your own S3 repository. Whether it is for compliance or forensics reasons, you can define your own S3 bucket and we will make sure all incoming logs are compressed and saved.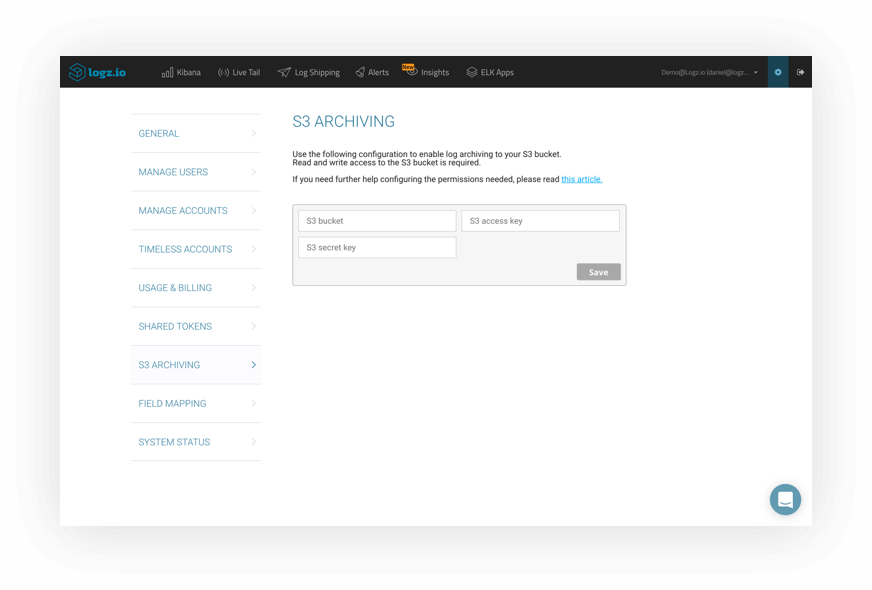 Live Tail
Monitor a feed of your data as it is being streamed from your different data sources in real-time. Search and highlight specific strings you are looking for in your data, as they are logged.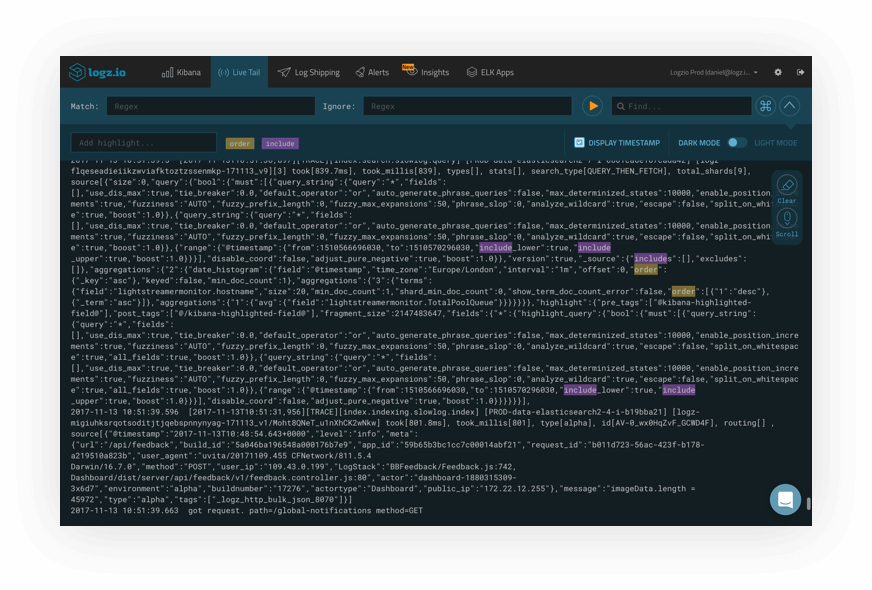 AI-Powered Analytics
Transform manual Cloud Operations into an automated scientific process with Cognitive Insights™ - an AI platform that combines machine learning and community knowledge to uncover hidden issues in your data, and Application Insights - a new analytics tool for identifying and understanding thrown exceptions.
Cognitive Insights
Identify critical events taking place in your environment that would otherwise have gone unnoticed.
See how other engineers are tackling the same issues with links to relevant resources on the web
Be proactive – set an alert to get notified when the issue takes place in the future, assign the event to a team member or start troubleshooting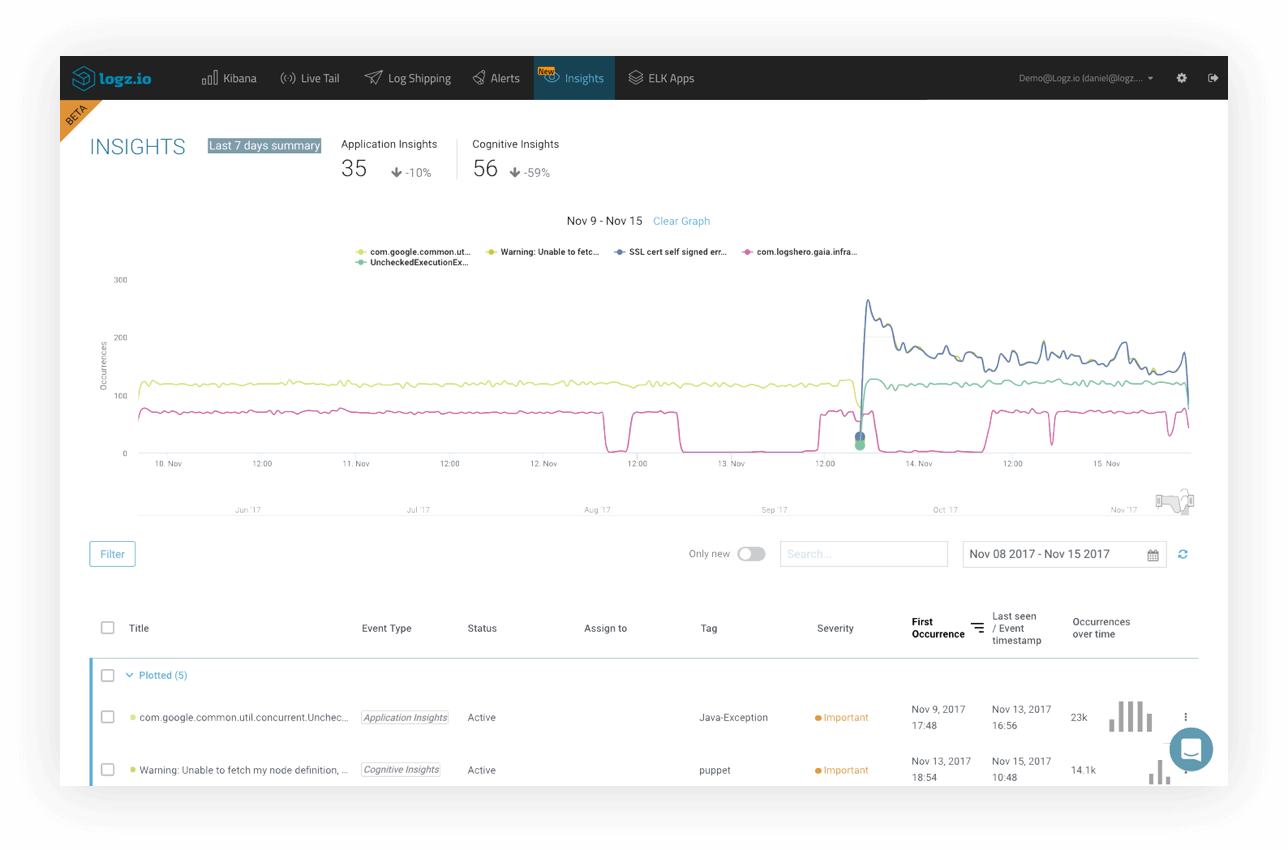 Application Insights
Uncover otherwise overlooked errors and new exceptions together with actionable and contextual data. View a full stack trace of the event and plot the exception on a storyline graph to identify correlations.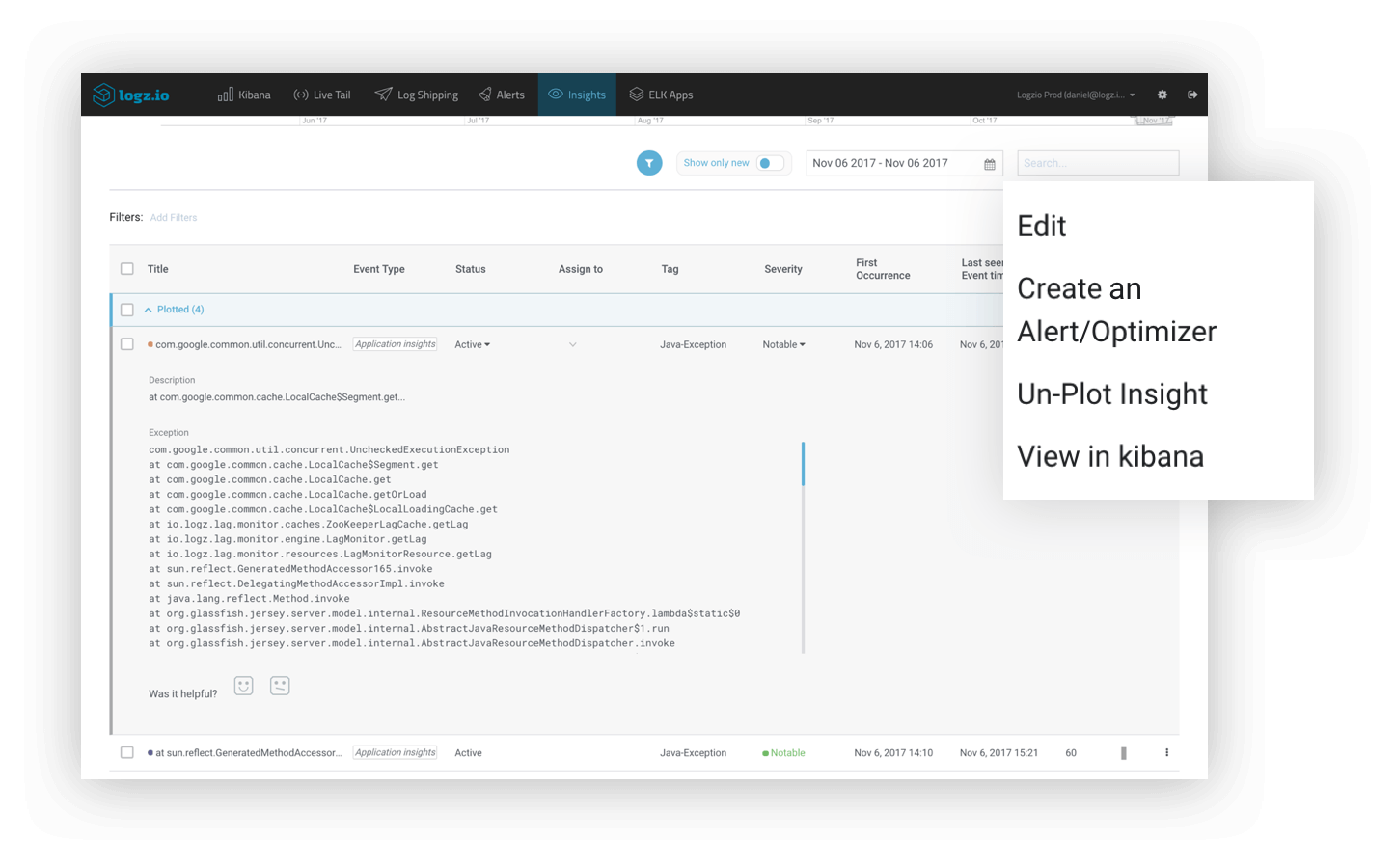 Use the field below to search Logz.io...