Logz.io Selected to the 2017 AI 100, Highlighting Advancements in AI-Powered Log Analysis
Santa Barbara, CA, January 11, 2017 — CB Insights today selected Logz.io to the prestigious Artificial Intelligence 100 list ("AI 100"), a select group of emerging private companies working on ground breaking artificial intelligence technology. CB Insights CEO and co-founder, Anand Sanwal, revealed the winners during The Innovation Summit, a gathering of top executives and investors to explore the industries of the future.
"We are honored to be named one of the top AI technologies says Tomer Levy, CEO and co-founder of Logz.io. "AI is playing a huge role in the world of data and enterprise technology and we are thrilled to be at the forefront these innovations. As opposed to legacy and more manual analytics systems which are not suitable for modern applications, artificial intelligence does not rely on engineers to analyze data and is able to process growing volumes of data in real-time while evolving its learnings."
Companies such as Affectiva, Blue River Technology, Deep Instinct, Sentient Technologies and Orbital Insight joined Logz.io in being recognized for their amazing teams, technology, and traction in front of an audience of 400 senior executives from around the world. 
The CB Insights research team selected the AI 100 winners based on a combination of data submitted by the companies, responses to interview questions and the company's Mosaic Score. Mosaic is an algorithm built with funding from the National Science Foundation that gives predictive intelligence into the health of private companies.
"From financial services to healthcare to transport, incumbent companies in every industry are seeing that AI will reshape their industries. And as so often happens, transformational innovation comes from emerging companies. In the case of AI, a lot of the groundbreaking work is being done by the AI 100. The companies in the AI 100 are accelerating research, improving efficiency, and making many game-changing advancements that will be felt for decades to come," CB Insights CEO Anand Sanwal said.
Quick facts on the AI 100:
In total, these 100 emerging private companies have raised $3.8B across 263 deals since 2012, according to CB Insights.

Applications of their technology include breakthroughs in healthcare, drug discovery, business intelligence, gaming, manufacturing, and much more.

More than 1,650 companies were nominated or applied for the AI 100 (only 6% were selected).

Data Collective has backed 14 of the AI 100 companies, while NEA backed 8 and Bloomberg Beta backed 7.

There have been 9 mega-rounds (funding rounds of $100M or more) to AI 100 companies since 2014.

Five AI 100 companies have reached a valuation of $1B or more (also known as unicorn status).

11 countries are represented among the winners.
Logz.io uses AI and and machine-learning algorithms to find critical events in the volumes of information that are now constantly generated in IT environments. Created by a Check Point veteran and a former algorithm engineer for the Israeli military, the enterprise-grade, cloud platform is built on top of the ELK Stack and provides real-time access to data insights based on the collaborative knowledge of system administrators, DevOps engineers, and developers throughout the world. Logz.io recently announced their $16M Series B funding and Boston area expansion, helping them to take their technology and infrastructure to the next level.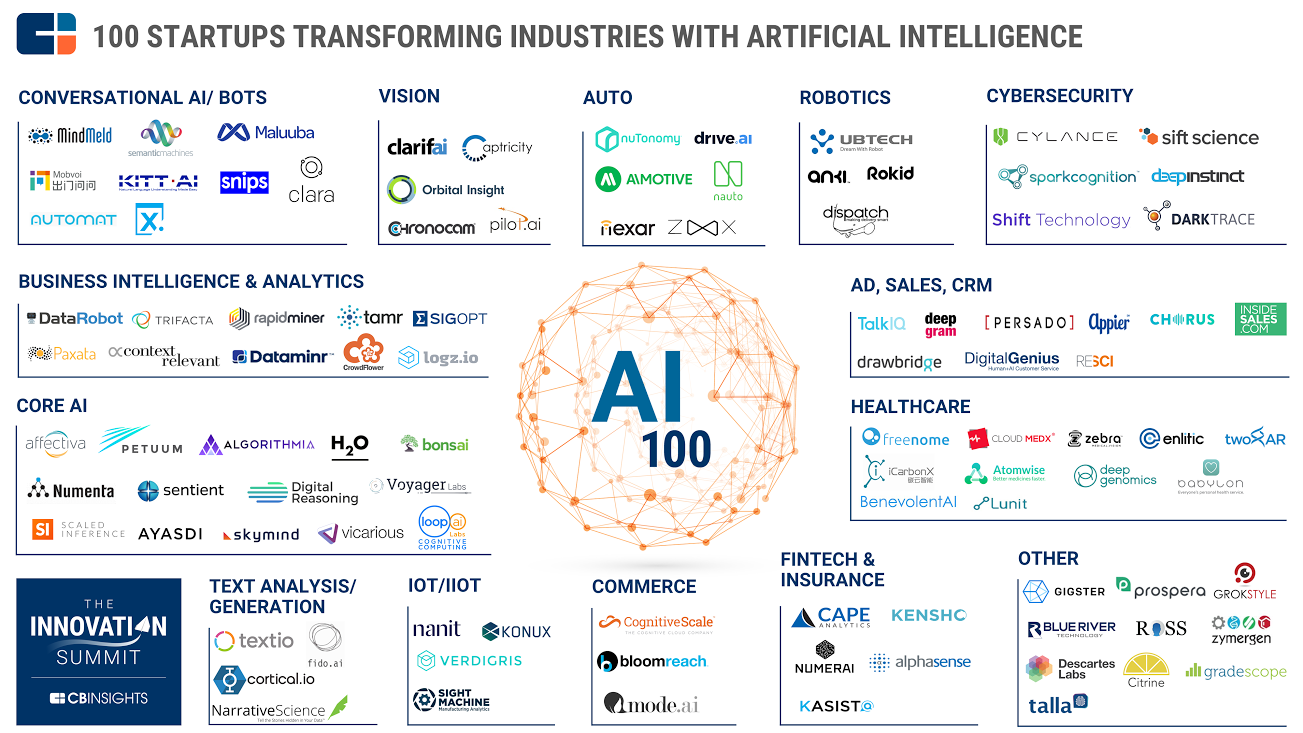 The AI 100 Winners:
Affectiva
AImotive
Algorithmia
AlphaSense, Inc.
Anki
Appier
Atomwise, Inc.
Automat
Ayasdi
babylon
BenevolentAI
BloomReach
Blue River Technology
Bonsai
Cape Analytics
Captricity
Chorus.ai
Chronocam
Citrine Informatics
Clara Labs
Clarifai
CloudMedx Inc
CognitiveScale
Context Relevant
Cortical.io
CrowdFlower
Cylance
Darktrace
Dataminr
DataRobot
Deep Genomics
Deep Instinct
Deepgram
Descartes Labs
Digital Reasoning
DigitalGenius
Dispatch
Drawbridge
Drive.ai
Elitic, Inc.
fido.ai
Freenome
Gigster
Gradescope
GrokStyle Inc.
H2O.ai
iCarbonX
InsideSales.com
Kasisto
Kensho Technologies
KITT.AI
KONUX GmbH
Logz.io
Loop AI Labs
Lunit Inc.
Maluuba
MindMeld
Mobvoi
mode.ai
Nanit
Narrative Science
Nauto
Nexar
Numenta
Numerai
nuTonomy
Orbital Insight
Paxata
Persado
Petuum, Inc.
Pilot AI Labs
Prospera Technologies
Rapidminer
Retention Science
Rokid Corporation, Ltd.
ROSS Intelligence
Scaled Inference
Semantic Machines, Inc.
Sentient Technologies
Shift Technology
Sift Science
Sight Machine
SigOpt
Skymind
Snips
SparkCognition
TalkIQ
Talla
Tamr Inc.
Textio
Trifacta
twoXAR
Ubtech
Verdigris
Vicarious Systems
Voyager Labs
x.ai
Zebra Medical Vision
Zoox
Zymergen

About CB Insights
Our team comes to work every day to build technology that helps corporations guess less and win more. We aggregate and analyze massive amounts of data and use machine learning, algorithms and data visualization to help corporations replace the three Gs (Google searches, gut instinct and guys with MBAs*) so they can answer massive strategic questions using probability not punditry.
With backing from the National Science Foundation and venture capital investors, we mine terabytes of data and knowledge contained in patents, venture capital financings, M&A transactions, hiring, startup and investor websites, news sentiment, social media chatter, and more. Our software algorithmically analyzes this data to help our clients see where the world is going tomorrow, today.
*We have MBAs.
About The Innovation Summit
From voice and chat interfaces to AI replacing investment managers and doctors to the new revenue models enabled by the Industrial Internet of Things, the Innovation Summit marries CB Insights' emerging trend research with the thinking of the world's smartest minds – leading VCs, economists, researchers and corporate strategists.
For more information about the AI 100, visit:
https://www.cbinsights.com/research-ai-100
To learn more about CB Insights' Innovation Summit, go here: http://events.cbinsights.com/corp-innovation-2017
About Logz.io
Logz.io is an AI-powered log analysis platform that offers the open source ELK Stack as a cloud service with machine learning technology. Visit the the company's blog on DevOps, log analysis, and ELK and follow Logz.io on Twitter, Facebook, LinkedIn, and Google+.