We're happy to announce that Logz.io is now available as an add-on for Heroku applications.
Logz.io provides the ELK Stack (Elasticsearch, Logstash, Kibana) — the world's most popular open source log analytics platform — as an easy, secure, and scalable service on the cloud with a bunch of enterprise-grade features such as archiving, alerts, security, and more.
Heroku makes developing and deploying applications on the cloud extremely simple by doing all the worrying about the underlying infrastructure of your applications for you. Supporting applications written in Ruby, Python, node.js, PHP, Java, Scala, and Go, Heroku has a rich ecosystem of third-party add-ons that add more functionality to the provided services.
Heroku users can now install Logz.io on their application and leverage the full power of the ELK Stack to manage and analyze their logs.
How to install Logz.io on your Heroku app
In Heroku, all logs created by your app and Heroku components are aggregated and collected into a single channel by a log delivery system called Logplex, which can be accessed via any of the logging add-on providers supported by Heroku or a custom log drain.
The simplest way to install the Logz.io add-on is via the Heroku dashboard:
Log into the Heroku dashboard.
Go to the Add-Ons page, and in the Logging section, select the Logz.io add-on.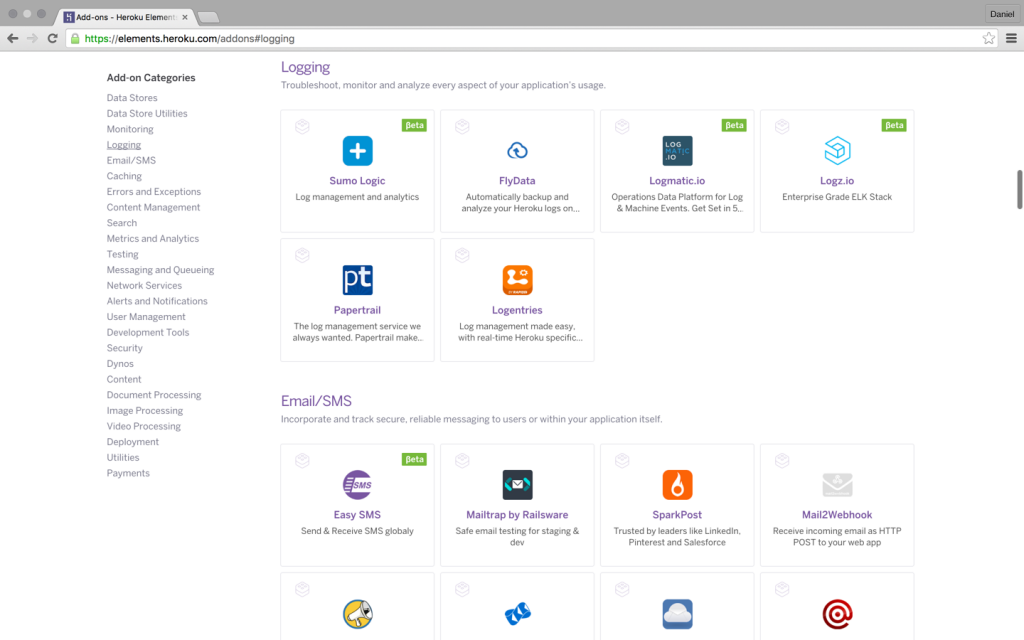 On the Logz.io Add-On page, click the Install Logz.io button at the top-right corner of the page.
When prompted, select the application on which you want to install the add-on and click Submit.
You'll then be taken to the application page and asked to select the plan name. Logz.io is currently free of charge, so simply click Provision.
Logz.io is then installed on your application.
To access Logz.io, simply click the Logz.io icon displayed in your application's add-ons list. The Logz.io interface opens up, with the Kibana Discover tab displayed:
Once your pipeline into the Logz.io ELK is established, you can start to query the data as well as create visualizations and dashboards. For an idea of how the ELK Stack can be used for log analysis, check out this video, our collection of ELK Stack guides, and our Learn section.